Trust but Verify: Why Assessments are a Critical Tool for Managing Data Center Operating Risks
—
Effectively managing the critical infrastructure of a 24x7 data center requires rigorous process, highly skilled staff and 3rd party vendors, and an established performance management framework. But how do you ensure the consistent data center readiness of your operations on an ongoing basis? Performing regular, impartial operational assessments is a critical component to validating the dependability, safety performance, and risk mitigation preparedness of your mission critical operations teams. At portfolio scale, a systematic assessment regime provides quality assurance of consistency and performance across sites, with flexibility to account for the site-specific needs of each data center. Based on lessons learned delivering assessment programs for both colocation providers and hyperscale enterprise data center portfolios with diverse needs, attendees will gain insight into common elements of a successful assessment process, priority assessment measures, and how to tie assessment recommendations directly to desired business outcomes.
This session took place on April 9, 2019
Please complete the following form to receive a link to the full presentation.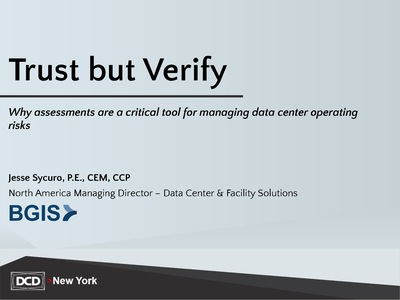 Trust but Verify: Why Assessments are a Critical Tool for Managing Data Center Operating Risks