Digital Twin For Today's Data Center
This session took place on April 10, 2019
Please complete the following form to access the full presentation.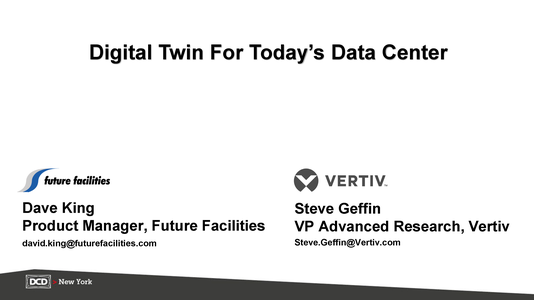 Digital Twin For Today's Data Center
Data center capacity planning is broken. Three-quarters of capacity planners report that a lack of proper information impedes capacity planning decisions on an alarmingly regular basis. Without the right knowledge, our only option is to reach for the safety blanket of over-provisioning, which leads to expensive waste: wasted CapEx, wasted OpEx and wasted opportunities as businesses are not able to react to challenges with enough speed.
Clearly, we can do better.
Join Future Facilities and Vertiv in this presentation to learn how a digital twin built on predictive physical modeling introduces knowledge and certainty to the data center capacity planning process. The digital twin technology has been implemented by several industries and applying it to the data center industry will help businesses answer the hard questions they are asking of their data center assets.
Brought to You by