Lightning Plenary Keynote: Evolve or Die - How We Right-Sized IT Infrastructure to Fit The Age of Ubiquitous Computing
This session took place on April 9, 2019
Please complete the following form to access the full presentation.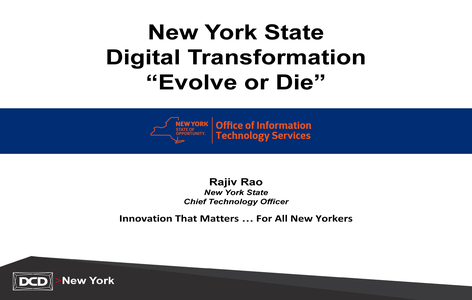 Evolve or Die - How We Right-Sized IT Infrastructure to Fit The Age of Ubiquitous Computing
New York State has undergone one of the largest consolidations of IT services in any state government. The technology infrastructure has consolidated from 53 disparate data centers to just 1 "all-in" data center, operated centrally by the State's Office of Information Technology Services. This keynote will outline the drivers of consolidation, what exactly an "all-in" data center is, and the benefits the state can now begin to realize.