Europe
Watch sessions on-demand
The virtual conference for the European data center industry
Tech showcase: Energy smart infrastructure innovation
This session took place on November 10, 2020
Please complete the following form to access the full presentation.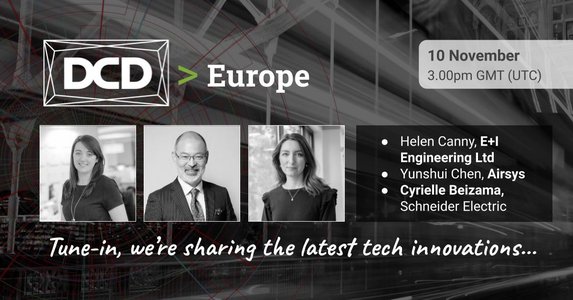 Tech showcase: Energy smart infrastructure innovation
3:00pm - E+I Engineering: Maximising Data Centre Project Efficiencies with Modular Power Design and Build
Abstract: As data consumption continues to rise, businesses are continuing to challenge the status quo in search of more efficient data center solutions. Considering the complex logistics and large capital investments required for traditional data center upscaling, this labour-intensive solution is no longer compatible with the rate of industry growth. As a result, modular power construction is fast becoming the method of choice for data center upscaling. In this session, we will discuss the key benefits of Modular Data Centre construction and highlight the tangible efficiencies that E+I Engineering's Modular Power processes and solutions could yeild for your Data Centre project.

3:20pm - Schneider Electric: DCIM to the rescue: Remote visibility and insights for proactive data center risk management.
In today's world, we are relying on digital infrastructures more than ever to support a range of critical services, including and not limited to hospitals, online classrooms and e-commerce. To keep pace with the increasing data center workload while adapting to the new normal, data center managers need real-time remote visibility and insights into their entire infrastructure to proactively manage risk – whether it is related to power, cooling or network.
This session will explore the challenges of white space and IT management faced by data center managers today, and highlight some of the best practices for proactive incident management through asset management, capacity management, and risk planning. 
3:40pm - Airsys: Fresh insights on how infrastructure roadmaps at Telecom and Data Center organizations will evolve in the next five years.
The industry faces major transformation over the next five years. From 'Free Cooling' to 'Cooling Free' and from a CAPEX to OPEX infrastructure investment model. From this session you will discover the obstacles to be aware of, and opportunities to capitalize on, as we move towards 2025 and beyond.
Speakers
Brought to You by