Europe
Watch sessions on-demand
The virtual conference for the European data center industry
Fireside Chat: How the history of the microprocessor dictates the future of the data center
This session took place on November 11, 2020
Please complete the following form to access the full presentation.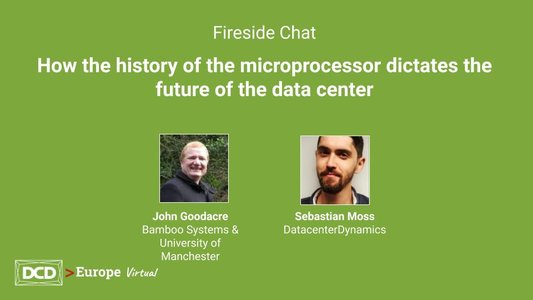 Fireside Chat: How the history of the microprocessor dictates the future of the data center
DCD's Feature Editor, Sebastian Moss, talks everything microprocessors with John Goodacre - a leading Professor at the University of Manchester, a government advisor, and a business entrepreneur - from the geopolitics of the chip industry, through to selecting for optimal efficiency, and how Moore's Law may have always been the problem, not the solution.
---
Should servers be selected on the basis of efficiency?
Roundtable discussion | 11:00 to 11:50 GMT
We invite you to join this roundtable directly following this conference presentation to continue the conversation, share your own insights and to find potential collaborators.