The focus of the data center sector has shifted towards large-scale projects, where very demanding customers want very standardized products, delivered very quickly to their precise needs and budgets.
This requires large investments. Data center builders typically have large backers, who want to own a piece of an organization that is both expanding and profitable.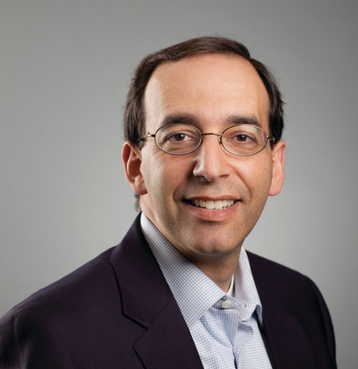 The CEOs who run these outfits have to juggle those two demands, along with the conflicting difficulties of supply chains, power supplies, and local legislation. Their role is increasingly a diplomatic one, saying the things which will please all their stakeholders.
Guarded
Eric Schwartz is the latest executive to drop into one of these roles at a big data center builder. Three months into his tenure as CEO at CyrusOne, he spoke to us about what data center building entails - and he spoke somewhat guardedly.
He is perhaps the most diplomatic CEO we've spoken to. He is the fifth CEO at CyrusOne in the last three years, a period which began in February 2020, when nine-year CEO Gary Wojtaszek stepped down. The next incumbent, Tesh Durvasula, lasted only four months before CyrusOne appointed Bruce Duncan, a realtor with no data center experience in July 2020. Duncan lasted a whole year, before the company brought back its co-founder and former CEO David Ferdman. After another year Schwartz arrived.
What was all that about? Schwartz declines to comment on CyrusOne's revolving door of leadership: "That was clearly before my time, and I didn't really have visibility into that," he says.
Constant change
While it played musical CEOs, CyrusOne was also looking for backers. It was up for sale. Eventually, it was bought by investors Kohlberg Kravis Roberts (KKR) and Global Infrastructure Partners (GIP), and taken private. At $15 billion, this was the largest data center M&A ever, agreed in November 2021 and finalized in March 2022.
The day we speak to him, the industry certainly feels volatile. News has just broken that industry long-timer Bill Stein has abruptly stepped down as CEO at one of the industry's giants, Digital Realty.
Schwartz's guard is still up: "I read the press like everybody else. I don't have any particular insight into what happened. Bill was in that role for well over 10 years, and built a body of work that was formidable."
He doesn't think CEOs are changing more frequently: "I haven't observed things to be demonstrably different. There's certainly more data center companies that we all track, and that just means there are more CEOs to keep track of. As it gets bigger, there's just a larger universe to observe these transitions. Maybe that's overly simplistic on my part, but I think there's always going to be a certain level of turnover."
Whatever the reality across the industry, it's obvious that Schwartz wants to offer stability. He says that's what he brings from a steady 16-year stint at industry colossus Equinix.
"That was certainly the pitch I made, convincing them to bring me on here," he laughs. "I'm aiming to be both permanent and a source of stability and leadership for the company. Whatever the circumstances were for my predecessors, my track record of having been at my previous job for 16 years, has sent a clear signal."
Strategy and expansion
There's more to it than that, of course. Schwartz left Equinix as chief strategy officer, with experience in steering a large company around big opportunities and risks. But before that, he spent some ten years running Equinix's European operations.
That's an interesting background, because CyrusOne began as a US colocation provider with roots as far back as the year 2000. It expanded through acquisition and building organically for a decade, then went public with an IPO in 2013.
In 2017 it made the big step of expanding into Europe with the acquisition of Zenium.
"For CyrusOne, more than half of our business is in the US, but it is growing at a faster rate in Europe - just off of a smaller base," he says. "So my experience having been in Europe, and a leader in that business, makes for the right profile for what CyrusOne is doing right now."
He's clearly pleased at the prospect: "The opportunities we're seeing just make me very enthusiastic about the growth potential [in Europe]."
And he's ready to address the fragmented nature of the European market: "It's not Europe, it's ultimately Germany, the UK, France, the Netherlands, Ireland, and Spain, which are all European countries, but different markets unto themselves."
Success here will demand that CyrusOne knows how to address those differences, he says, "rather than try and mold it to fit the model that we have for our American business. Trading in Europe requires understanding the European markets and working to those requirements."
Understanding the different regulations, and levels of availability of land and power in different European countries, is "right up my alley," he says, following his stint at Equinix. "To me, this is very familiar ground, and we have a very good team based out of London."
Serving big customers - and big backers
Of course, CyrusOne is addressing different users than Equinix. Instead of serving a lot of enterprise customers and others with a business model that involves connectivity, CyrusOne is creating large amounts of space for a small set of hyperscale customers and large enterprises.
"Our focus is on being a data center developer," he says. "Finding land, getting the power to the site, constructing a reliable design and then operating it to the specifications of very demanding customers who usually have large deployments with us.
"In my three months here, I've been very impressed with how the company has been built to execute and deliver to that specific set of market requirements," he says.
To be honest, the requirements he mentions don't sound that special. Everyone deals with efficiency, sustainability, and supply chain disruption.
And his answers sound like common sense: standardization and good relationships with suppliers.
"At any given moment we've got at least five different developments underway. We manage the supply chain with vendors and components across that entire portfolio in a common way. So we are operating one supply chain that is supplying five projects.
"It's an absolute necessity, because if they were five independent projects operating on their own, we would be no different than a data center company in any of those locations working in isolation."
Companies buying big data centers wholesale are now a distinct and demanding bunch, he says: "Years ago, we just talked about data centers, and that was the industry. Now there are definitely segments."
Pleasing the investors
He has to keep the investors happy. Big data center builders like CyrusOne, DigitalBridge, and Goldman Sachs' GCI, have big backers. While there's a data center boom, their job is easy: building big barns and shoveling cash back to the backers.
But right now, with some suggesting the pace of data center building may slacken off, those investors are starting to ask questions - consider Legion's ultimatum to Marc Ganzi at DigitalBridge.
So Schwartz spends some time with us praising his investors (and making sure we mention both of them): "They're both very, very impressive firms. And as you can tell, they're both my boss."
KKR and GIP have expertise, he says: "Not so much about data centers, because they're counting on us to help. But about the capital markets, about the energy markets, about investment in all sorts of adjacent areas. The opportunity to have them closely involved in the business just gives us a little bit more market intelligence than we would otherwise have."
He doesn't expect to see them consolidating CyrusOne with any of their other holdings, as it has its own unique value: "We're going to continue to operate CyrusOne as a standalone company."
Taking a company private is often seen as a liberation from quarterly reporting and public disclosures, but Schwartz isn't so blasé: "Ultimately, it's trading one set of stakeholders, a set of public shareholders, for a different set of stakeholders, which are private investors."
Perhaps not as pointedly as Ganzi at DigitalBridge, Schwartz is under pressure.
"KKR and GIP have deep resources when it comes to raising capital and accessing the capital markets," he says, but the onus is on CyrusOne to bring a return on that investment: "This is a capital-intensive industry. We've got to access that capital to continue to fuel our growth.
"I'm very confident that we can access the capital we need for investments in projects that are feasible. I'm equally confident that they'll be equally direct with us about projects that aren't."
Dealing with regulators
Speaking of projects, CyrusOne is building in several markets in Europe, including London and Frankfurt, and a number of others in the US, he says.
Today there is something of a backlash against data centers, with energy supplies in crisis and new regulations. Are things tougher now, we ask?
"It's very different than it was a number of years ago, where data centers weren't really on the agenda of governance," he says. "They all recognize the importance and the relevance of data centers, and they've got to balance that against other policy concerns."
That's "part of the world that we're living in," he says.
"I think the industry as a whole is doing a better job of engaging with policymakers and regulators to explain not only what we're doing and the value that it has to the broader economy - and to align the development programs that we're executing with what regulators and governments are looking to accomplish."
In response to concerns about energy in Europe, he says: "We're steadily improving efficiency, and we're getting better and better at cooperating with the energy regulators as to the demands that we place on the grid and related infrastructure."
He also calls out concerns about privacy and land use.
"Whether the scope of regulation expands or not, will depend on where the government sees the need to be involved versus where they let the market dictate."
CuyrusOne has accelerated its commitment to be net-zero by 2030, and has also been active in material recycling and water efficiency, "because we operate in several locations that are quite constrained on water."
The company has done an analysis of the trade-off between water and energy use, concluding that in some instances water savings beat energy savings.
As a generalization, he thinks the US may be leading on water use, which produces ideas that can be applied in Europe, while Europe's current energy crisis may produce lessons that can be applied in the US.
"We're applying the learnings on water from the US to Europe, and we're applying learnings on energy efficiency and power efficiency in Europe back to the US," he says. "But the energy market in the US is quite different than Europe today - and the energy market in the UK is different from the energy market in Germany and Spain."
Projects underway
Like any giant data center builder, CyrusOne is looking to expand into other territories, but Schwartz won't say what they are: "We've got several different options that we're considering, but I can't narrow it down until I've got something tangible to share with you."
Outside London, CyrusOne has announced a plan for a 90MW data center in Iver, which he is proud of: "We really took into account the topology of the site, to come up with a distinctive design, with a green roof. It's very well integrated into the surrounding area, and there was a lot of engagement with the local planning authorities and other constituencies, so the design only going to be effective for the customers, but also for the broader community."
Schwartz is hoping for recognition from this project, perhaps because CyrusOne is still less well-known than its rivals.
The company is not widely perceived as a large player, but he thinks that is changing. "In the broader industry, we're growing in visibility."
While not as big as Equinix or Digital Realty, CyrusOne is "larger than people perceive," says Schwartz.
"And I enjoy being the underdog."