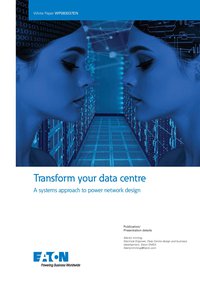 The data center no longer has a single blueprint as disparate customers address their business needs with a wide variance of design solutions. The emergence of hyperscalers with their fast-paced construction programs has accelerated the evolution of data centers to hyper speed.
Where previously the largest colocation providers could deliver 5 to 10 data halls in a year, hyperscalers are now delivering this in a month. Plus, each data hall design improves on its predecessor. The question is; how can this drive for continuous improvement in performance be sustained, using a traditional design approach? Evolving customers requires transformational thinking.
This whitepaper takes a look at a system-level approach to a power network design.
Download your free copy now: