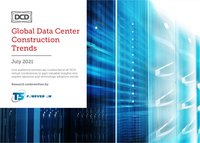 A report created using the data gathered by a DCD survey. This report covers everything you need to know about the global construction trends in the data center industry.
Questions asked include:
How well has data center construction kept up with demand over the past 12 months?
Is your organization preparing for greater demand in 2022 than in 2021?
How will data center construction costs ($/MW) change over the next 3 years?
Download the report now to get feedback from your industry.
More industry reports...
Download this free report today for exclusive insights into the impact the skills shortage is having on our industry, brought to you in partnership with Kirby Engineering

Download this free report today for exclusive insights into what our global community see as the biggest trends in Enterpise data centers

Download this free report today for exclusive insights into what our global community see as the biggest trends driving (or hindering) the adoption of data center automation systems