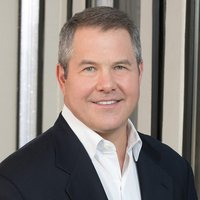 Greg Wright
Chief Investment Officer
,
Digital Realty
Greg Wright is the Chief Investment Officer at Digital Realty, with responsibility for spearheading the company's investment and other capital allocation activities.
Prior to joining Digital Realty, Greg was Co-Head of Americas Real Estate and Managing Director of the Real Estate, Gaming & Lodging Group at Bank of America Merrill Lynch. During his tenure at Bank of America Merrill Lynch, he provided strategic and financial advice to clients across a broad spectrum of real estate, infrastructure and related sectors, including Digital Realty. In his capacity as an external advisor to Digital Realty, his strategic and financial expertise were integral to the execution of transactions that have been truly transformational for the company. He served as lead M&A advisor on the $1.9 billion acquisition of Telx, the $7.8 billion merger with DuPont Fabros and the $1.8 billion acquisition of Ascenty. Before his time at Bank of America Merrill Lynch, Greg served as a Managing Director in the Real Estate & Lodging Group at Citigroup where he was responsible for originating and executing strategic advisory and capital raising assignments, as well as general client coverage. During his 25-year investment banking career, he successfully completed over $200 billion of M&A transactions, asset sales, joint ventures, public and private debt and equity offerings, and bank loans for clients. Many of these transactions have been the largest, most noteworthy deals in the REIT sector. For example, Greg led teams that acted as the sole sell-side advisor on the largest REIT merger in history and that served as an active bookrunner on the two largest REIT initial public offerings to date. Greg also worked at Trammell Crow Company in Washington, DC where he was a member of the finance team responsible for acquisitions, dispositions and joint ventures, as well as construction and permanent debt financings across multiple product types.
He received a Bachelor of Arts degree in Finance from the University of Maryland and a Master of Business Administration degree from the University of Michigan.