When you think of Norway, what comes to mind? It might be Vikings or fjords, snow or the country's excellence in winter sports. What is unlikely to be an image you have of Norway is its data center industry, but it is booming.
As businesses are willing to go further afield to find the right colocation partner, Norway presents a very appealing offer. It provides one of the best answers to the question of sustainability. Regulations make it easy to do business in the country. And power costs can be kept low because of Norway's cold climate.
Despite this, one big factor that has to be included in any colocation decision is connectivity, how are you going to get data back and forth between data centers and the clouds you're using?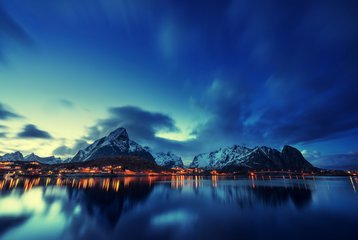 Why Norway is seeing a demand
From the European Commission's call for countries to help tackle global issues in sustainability and development, to green initiatives from large technology hyperscalers like Amazon and Microsoft, sustainability is quickly moving to the top of the agenda for many businesses.
For IT to help achieve these sustainability goals, thinking about how they manage their data centers is a big factor. Data centers are often considered one of the heaviest energy consumers in technology, and according to the IEA, data centers account for 1% of the global electricity demand.
So, finding ways to minimise energy consumption in data centers is key to helping businesses achieve their sustainability initiatives, and the reason why Norway presents an ideal location to host their workloads. Norway is one of the few countries in the EU with 100% renewable energy production, which means that businesses can power their data centers on renewable energy.
Additionally, Norway as a country has a surplus of power. The country produces more power than it consumes, providing capacity for businesses to expand their digital capabilities, which other locations may not be able to offer. For example, authorities in Amsterdam banned new data center builds during 2019, fearing the extra load they'd place on the city's electrical grid.
Another reason why businesses are moving their workloads to Norway is the opportunity to keep costs low. Norway's naturally cold climate means that colocation providers have lower cooling costs, and these savings made by providers can also be passed onto businesses renting these facilities. Furthermore, Norway has the lowest cost of power in Europe. This means that businesses hosting workloads there can save €2.5-3 million per MW of capacity per year, compared to colocating in Germany for example.
Finally, Norway makes it easy to connect to other countries in Europe. For instance, a roundtrip from data centers in Norway to Frankfurt can take less than 20ms. Also, data centers in Norway don't need to pay tax on their equipment, which means businesses colocating in Norway don't have to pay tax costs and admin fees.
Cloud connectivity remains front of mind
While Norway ticks many of the colocation boxes, one big area that organizations need to plan for is connectivity to and from the cloud, with built-in flexibility for future plans.
For businesses considering colocating in Norway, they also need to ensure they're prepared and able to connect quickly, easily and securely to cloud service providers – this requires a robust network strategy.
In a study conducted last year by IDC and Megaport, looking at businesses in the Nordic region, it was found that only around 40 per cent of the organizations surveyed had defined or considered a network strategy. Simultaneously, this meant that over half of businesses using data center space in the Nordics had yet to think about the role of connectivity in their overall digital strategy.
For these businesses, they'll come to realise that connecting to cloud services via traditional point-to-point circuits can be time-consuming and cumbersome, and internet connections don't offer secure and reliable performance. When businesses consider multiple cloud vendors, matters become even more complicated.
So, how can organizations marry the benefits of colocating in Norway with a flexible cloud strategy that enables them to connect to multiple clouds now and in the future?
Leaving a digital footprint in Norway
To overcome issues such as inconsistent internet routing and ensure a hassle-free process that can combine services from various cloud providers, organizations are turning towards dedicated software-defined networking solutions. Not only does this provide cloud connectivity, but it provides flexibility as network connections can be set up simply, quickly and on-demand, without worrying about long-term contracts or additional fees.
Organizations can also connect to locations around the world, allowing cross-border collaboration.
Bringing it all together
Green Mountain for example, a data center company with three Tier III data centers in Norway, finds that customers are now more frequently making connectivity a crucial part of the colocation conversation.
"Every business out there has a cloud strategy. So, even if the workloads colocated in our data center aren't currently cloud-bound, prospects always want to know what their cloud connectivity options are for the future," said Svein Atle Hagaseth, Chief Sales Officer, Green Mountain.
"Of course, every customer I speak to wants to connect to a different combination of cloud providers – many of which don't necessarily have a data center or on-ramp here, and some customers need to connect their workloads back to data centers in other parts of Europe or across the globe. This is where the flexibility and extended reach of a Network as a Service platform like Megaport comes into play."
Today, organizations are turning to Norway to host their IT workloads due to the country's unique traits. It's greener, more business-friendly, and lower cost. But what convinces these organizations to remain in our region, is having a robust network strategy in place that enables them to stay competitive and deliver on their growth goals.