One thing is certain in the fast-evolving internet world: traffic will continue to grow at a rapid rate. This non-stop growth puts constant pressure on cloud and internet exchange (IX) providers to keep ramping up the speed and capacity of their IP networks. The pressure will only increase as more of the world embraces media streaming and technologies such as 5G, blockchain and the metaverse.
To stay a step ahead of traffic growth and avoid breaking their budgets, cloud IX providers need IP routing solutions that can handle exponential traffic growth while reducing the cost per gigabit to deliver that traffic. These solutions must also help reduce the environmental impact of data centers and data transmission networks, which are responsible for nearly one percent of energy-related greenhouse gas emissions, according to ITU-T.
Unfortunately, interconnection networks that are limited to using 100G and 400G links are more expensive and difficult to scale because traffic needs to be distributed over multiple links in aggregation groups. Plus, there are practical limitations on the energy, space and cooling available at most data centers that host internet exchange points (IXPs), so providers need to offset capacity increases with greater resource efficiency.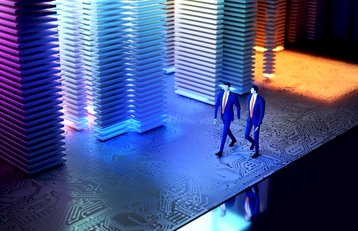 The 800G era is here
800 Gigabit Ethernet (GE) routing is ready to help cloud and IX providers overcome these challenges and meet new speed, capacity and sustainability demands. This next-generation IP network technology uses the newest Multi-Source Agreement (MSA) interworking specifications for an 800G QSFP-DD interface connector that supports eight high-speed electrical lanes using 112G SerDes signaling rates. It enables cloud and IX providers to scale up capacity while reducing the space and power required by their routing equipment.
The backward compatibility of 800GE QSFP-DD interface ports means that cloud and IX providers can simply plug in faster optics to seamlessly scale link bandwidth from 40GE all the way up to 800GE in the same QSFP-DD port and line card. If providers need more 100GE or 400GE connectivity, they can use optical breakout to connect two 400GE or up to eight 100GE ports with one 800GE pluggable optic. This flexibility simplifies cabling and significantly increases faceplate port density.
As systems become denser, optics will account for a greater share of the power that routers consume. 800GE routing reduces the energy used by router ports and pluggable optics by supporting higher capacity in a given rack space or chassis compared to lower-speed ports.
This power efficiency translates to lower cost and watts per gigabit. An 800GE pluggable transceiver currently costs about the same as two 400GE pluggables, but it consumes 20–40 percent less energy per bit over the same distance. SFP-DD and 400G QSPF pluggables that take advantage of faster 112GE SerDes signalling rates can also boost capacity while reducing cost per bit. For example, compact 200GE SFP-DD pluggable optics can support twice the capacity of 100GE QSFP28 optics while consuming about 25 percent more energy.
800GE routing in action
Many cloud and IX providers are still focused on upgrading their IP networks to support 100GE and 400GE speeds. However, the first public trials of 800GE technology by Nokia, Keysight Technologies and Spirent Communications have validated the readiness of these next-generation optics.
Leading cloud and IX providers aren't waiting to make the leap to 800GE speeds. In October 2022, DE-CIX became the first IX worldwide to implement 800GE technology. The new deployment will allow Europe's largest IX to respond to steadily growing customer demand for more bandwidth with the latest generation of hardware and a modern, scalable infrastructure that can cope with future demands.
NL-ix, the largest distributed IX provider in Europe, is another early 800GE adopter. The company deployed the new technology to connect its Amsterdam data centers directly to core switches at three sites within the city. This deployment increases the capacity of the Amsterdam core to 648 Tb/s. It will allow NL-ix to offer 800GE connectivity and increase the density of 400GE services in any of the 100-plus European data centers in which it operates.
With the step to 800GE, NL-ix has made Amsterdam Europe's first next-generation data hub and strengthened the position of the Netherlands as a digital gateway to Europe. The new technology has also enabled NL-ix to cut costs, reduce power consumption and connect customers in a simpler and more efficient way. NL-ix already has plans to deploy 800GE routing at its hubs in Frankfurt, Paris and Marseille.
A cost-effective investment in the digital future
The deployment of 800GE optics puts new demands on interface and switching fabric modules and creates the need for faster silicon. But the one-time capital expense to add 800GE capabilities to routing platforms opens the door to recurring OPEX savings. By providing a simple upgrade path from 100G to 800G speeds while reducing power and space requirements, 800GE routing will help cloud and IX providers sustainably increase network capacity for the data-hungry digital world.
More from Nokia
Tackling operational challenges (and cost) with network automation

Data center automation isn't with us yet, but Nokia's Data Center Fabric solution is a big step in the right direction that could achieve operational cost savings of 40 percent

Global enterprise applications, mobile apps and games built and maintained on DevOps principles need NetOps to provide reliable, network support, argues Nokia's Jonathan Lundstrom