Work has begun on the world's first commercial underwater data center, planned off the coast of Hainan Island, China.
Chinese marine firm Offshore Oil Engineering Company (COOEC) has begun making a full-scale data cabin at its Tianjin Lingang manufacturing site, to be deployed in 20m deep water off the coast of the Hainan Free Trade Port in a project announced in May 2021. The project leader, Highlander, has previously conducted trials of data center equipment running in an underwater cabin, intended to operate efficiently cooled by the surrounding seawater.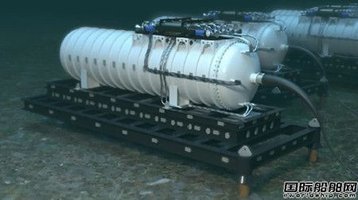 The concept of underwater data centers was first put forward in Microsoft's Project Natick.
Launch stations
Highlander signed contracts in January to build an underwater facility consisting of a projected 100 data cabins, each of which contain racks of servers, connected to land by power and data cables, and making use of Hainan's nuclear power for low-emission electricity.
According to the COOEC press announcement, the cabins will weigh 1,300 tons (the equivalent of around 1,000 cars), and be connected to land via a "placenta" tank with a diameter of 3.6 meters. COOEC says this will make it the world's largest submarine data cabin - though with the retirement of Microsoft's latest Natick deployment in 2020, it would also be the only submarine data cabin besides Highlander's smaller test vessel.
COOEC and Highlander have had to develop a system whose structure and seals can withstand seawater pressure, and corrosion, and have also designed external circulation pipework which is recyclable.
As an offshore engineering equipment company, COOEC will be responsible for the design, procurement, manufacturing, testing, land transportation, and ship-fixing of the first batch of data cabin modules. 
Highlander lists benefits including low consumption of energy and water, low construction cost, land saving, and high reliability: "It is a new type of marine engineering that effectively saves energy and resources and integrates technology, big data, low carbon, and green, and has far-reaching significance for promoting the green development of the data industry," says the latest release.
The project is commercial, but is labeled the Hainan Subsea Data Center Demonstration Project, backed by Sanya City, Beijing Highlander and its subsidiary Hi-Cloud, in conjunction with the Hainan Provincial State-owned Assets Supervision and Administration Commission.
COOEC has a history of offshore engineering for the oil and gas industry, and says the Hainan data center project allows it to "expand from traditional offshore oil and gas engineering products to new offshore businesses." The company has a green and low-carbon strategy, under which it is highlighting "clean" energy such as liquid natural gas, and an effort to enter green marine engineering industries such as offshore wind power.