President Donald Trump will soon sign an executive order targeting social media companies, White House spokesperson Kayleigh McEnany told reporters on Air Force One.
The move comes after the president threatened to "strongly regulate or close down" social media platforms, following Twitter's decision to add a fact check warning to two of his factually incorrect tweets.
How far we have come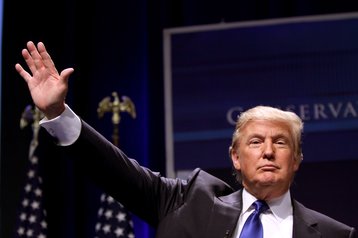 Exact details about the executive order were not shared. A draft of of the order obtained by Reuters plans to accuse social media platforms of "selective censoring" and remove legal protections for those companies under Section 230 of the Communications Decency Act.
The section mostly exempts online platforms from legal liability for the material their users post - a response to the difficulty platforms would experience in completely policing content, given the scale of their platforms.
The draft order, which could change, requires the FCC to look at whether a social media platform uses deceptive policies to moderate content and if its policies are inconsistent with its terms of service.
After White House advisor Kellyanne Conway, and other Republican figures, highlighted specific Twitter employees for criticism, opening many up to harassment, Twitter CEO Jack Dorsey said: "Fact check: there is someone ultimately accountable for our actions as a company, and that's me. Please leave our employees out of this.
"We'll continue to point out incorrect or disputed information about elections globally. And we will admit to and own any mistakes we make."
Facebook, meanwhile, did not fact check similar incorrect Trump statements on its site about mail-in ballots. "We have a different policy, I think, than Twitter on this," CEO Mark Zuckerberg told Dana Perino, host of the Fox News show The Daily Briefing, in a clip of an interview scheduled to be aired later today
"I just believe strongly that Facebook shouldn't be the arbiter of truth of everything that people say online. In general, private companies probably shouldn't be, especially these platform companies, shouldn't be in the position of doing that."
Back on Twitter, Dorsey appeared to retort: "This does not make us an 'arbiter of truth.' Our intention is to connect the dots of conflicting statements and show the information in dispute so people can judge for themselves. More transparency from us is critical so folks can clearly see the why behind our actions.
"...Per our Civic Integrity policy, the tweets yesterday may mislead people into thinking they don't need to register to get a ballot (only registered voters receive ballots). We're updating the link on @realDonaldTrump's tweet to make this more clear."
Today, the President tweeted: "This will be a Big Day for Social Media and FAIRNESS!"