The planned merger was first announced in October of last year when Liberty Global's Vodafone and CK Hutchison's Three confirmed talks.
A merger between the two operators would be worth an estimated £14.5 billion ($17.5bn) according to analysts.
If the merger does go ahead, it would see the UK's four mobile operators consolidate down to three, with EE and Virgin Media O2 the remaining competition.
Under the proposed plans, Vodafone would own 51 percent of the company, with Three holding the rest. Bloomberg notes that sources suggest CK Hutchison may exit the JV in the longer term.
Three UK was close to a merger with Telefónica's O2 back in 2016 before the European Commission blocked the deal.
The departure of Vodafone chief executive Nick Read, plus regulatory barriers, have seen discussions between Vodafone and Three slow down in recent months.
Speaking to DCD in October, CCS Insight director for consumer and connectivity Kester Mann said the deal made sense.
"Confirmation of a potential tie-up between Vodafone and Three comes as no surprise - the two companies have made no secret of their interest to consolidate," Mann said.
"The leading motivation to join forces is scale. In telecommunications, the most successful companies tend to be the largest; bulking up would offer many synergies and cost-saving opportunities. Under the status quo, it's hard to see either operator growing enough organically to challenge BT and Virgin Media O2 for size in the UK."
If the merger is pushed through it would see the two MNOs combine for a market share of around 30 percent.
Vodafone has previously referred to rival operators EE and O2 and their respective consolidations in the UK market, with EE merging with BT in 2016, while EE itself was created as Everything Everywhere back in 2012 when Orange and T-Mobile merged.
The other big operator in the UK is, of course, O2 which merged with Virgin Media in a £31.4bn ($35.3bn) deal in 2021 in another fusion of mobile and broadband assets where the merger was split 50:50.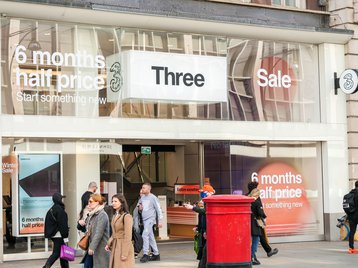 Vodafone to cut 1,000 jobs in Italy, says Union
Elsewhere, Vodafone is reportedly set to slash a fifth of its workforce in Italy in a move that could see 1,000 jobs being lost.
Italian trade union Fistel CISL noted the potential job cuts in a statement yesterday (March 9), with the union attacking the decision.
Vodafone is said to be wielding the axe as part of cost-cutting measures.
"We are clearly faced with yet another demonstration of a wrong model for the telecommunications sector. Tariff reductions caused by exaggerated competition, lack of industrial vision for a sector that in the rest of Europe continues to be an instigator of the digital transition," said Fistel.
The operator previously axed 15 percent of its Italian workforce as part of a restructuring back in 2019.