South African telecom company Vodacom has spent over R4 billion ($203m) on backup power, including batteries and generators, over just the last three years amid ongoing grid instability.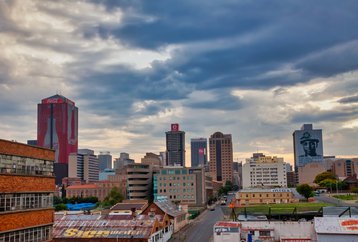 South Africa has had a notoriously unstable grid for more than a decade. The majority of the country's power grid is owned by state-owned Eskom. Eskom has been forced to impose periods of load-shedding on rotation since 2007; 2022 saw 300 load-shedding events.
On top of this, recent years have seen substation breakdowns, theft of coal and diesel, corruption scandals, and a $5 billion payout, all while energy costs tripled between 2007 and 2020.
As a result of this, many companies have been forced to turn to backup power, hence Vodacom's hefty bill. The company says that, on top of the massive spend on backup power, Vodacom has had to spend a further R300 million ($15.3m) on additional running costs in the form of diesel, security, and maintenance.
In hopes of improving this, Vodacom has committed to spending between 13 and 14.5 percent of its revenue on capital expenditure including investments in technology and network infrastructure. The company has pledged R60 billion ($3.05bn) of capital investment over the next five years, claiming that this should help improve network resilience and keep customers connected throughout load-shedding, accelerate 5G coverage, and improve rural coverage.
Vodacom is also exploring the potential of a power wheeling project with Eskom, where stakeholders generate power offsite where space allows. The company first announced plans to pilot the project in September 2022.
Vodacom currently operates over 15,000 distributed low-voltage sites across South Africa, linking to 168 municipalities. With 'wheeling' in place, however, Vodacom would be able to access electricity from non-Eskom sources while still using Eskom's transmission infrastructure and services.
Vodacom would pay for all energy produced by the independent power producers, but would then be refunded by Eskom for that energy consumed using a Wholesale Energy Pricing System.
"The power will be virtually wheeled to the Vodacom sites, as opposed to being directly wheeled. We see this as transformational in a number of ways, because once the project is in pilot stage, we are looking to see if it can be replicated by the rest of the telco industry, and also by broader corporates," said Shameel Joosub, Vodacom group CEO.
"We remain confident that the 'virtual wheeling' pilot project that we're pioneering with Eskom, South Africa's power utility company, will be signed off in the near term and that this will have a significantly positive impact on the country's power grid and ultimately on the over 20,000 towers across the industry that require a reliable power supply to operate optimally. Vodacom has committed to run on 100 percent renewable energy by 2025," Joosub added.
Vodacom made these announcements during its earnings results for the year ending 31 March 2023.
According to the results, Vodacom Group's revenue has increased by 16 percent up to R119.2 billion ($6bn) and the company serves a total of 185.8 million customers, including Safaricom.
South African operator MTN has invested $84 million to ensure its mobile network continues operating amid regular rolling power cuts.
More in The Telecoms & Connectivity Channel