Australian telecoms company Vocus has signed construction contracts for a new $100 million, 1,000km cable linking the Australia Singapore Cable (ASC) to the North West Cable System (NWCS) in Port Hedland.
That connection will serve as the final piece of the Darwin-Jakarta-Singapore Cable (DJSC), a $500 million cable system connecting Perth, Darwin, Port Hedland, Christmas Island, Indonesia, and Singapore.
It will be the first international submarine cable connection into the Northern Territory capital of Darwin. Fibre Expressway's Project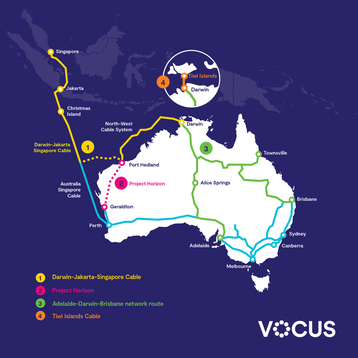 "The Territory is going digital - and there is so much opportunity for growth and jobs in this space," Northern Territory chief minister Michael Gunner said.
"The Darwin-Jakarta-Singapore Cable is a massive sign of confidence in the top end as an international provider for connectivity and digital industries."
The DJSC cable will deliver 40Tbps of Internet capacity between Australia and Asia.
"Vocus is delivering the four largest telecommunications network projects in Northern Australia, cementing our position as the leading fiber infrastructure investor in Australia today," Vocus Group managing director and CEO Kevin Russell said.
"We've delivered Terabit Territory - a 25-times increase in capacity into Darwin. We've delivered a submarine cable from Darwin to the Tiwi Islands. We're progressing Project Horizon - a new 2,000km fiber connection from Perth to Port Hedland and onto Darwin [on land].
"And today we've announced the Darwin-Jakarta-Singapore Cable, the first international submarine connection into Darwin."
DJSC links to the Australia Singapore Cable, which this month recovered from a lengthy outage. The cable was broken in "multiple locations at challenging depths," and took 12 days to fix.