Virginia offered $135.9 million in tax breaks to data centers in 2022.
The number was detailed in the Commonwealth's 2022 Annual Comprehensive Financial Report. The total amount of tax breaks offered to data center companies have risen by tens of millions of dollars each year, more than doubling since 2017.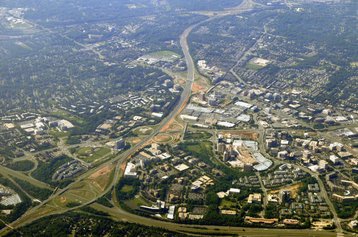 Virginia offers Retail Sales and Use Tax Data Center Exemptions for data center developments that meet certain investment and employment thresholds. The exemption rate varies by county but is generally pegged at around the 5-7 percent mark.
The amount of abated taxes for the fiscal year 2022 was $135.9 million. That's $11.5 million higher than 2021's $124.5 million, itself $14 million higher than 2020's $110.5 million. The figure has steadily risen in recent years; 2019 saw Virginia offer data center tax abatements totaling $92.2 million, $79.2 million in 2018, and $65.2 million in 2017.
The current tax rules around data centers are set to run until 2035, when they will either expire or need to be extended.
While Loudoun County remains the data center capital of the world, new restrictions on where developers can build and a surprise capacity crunch announcement by Dominion could curtail future expansions.
At the same time, Prince William County is set to see tens of millions of new data center square footage developed over the next few years as the likes of CorScale, QTS, and Compass develop on land close the Manassas National Battlefield Park.
At the same time, Maryland has introduced its own tax exceptions for data centers, and a number of companies are looking at developing large-scale facilities at Quantum Loophole's upcoming campus in Frederick County, located across the Potomac River from Ashburn.
In DCD's latest magazine, we focus on the present and future status of data centers in Virginia. Download and read for free today for interviews with Loudoun County's Buddy Rizer, NTT, Digital Realty, PowerHouse, CorScale, and more.