Aligned has outlined the scale of its data center development at the 2,100-acre Quantum Loophole campus in Frederick County, Maryland.
Update: Since publishing this story, Aligned reached out to DCD to say it has more than doubled the scale of its development at the site to 3.3 million sq ft (306,580 sqm) and 264MW.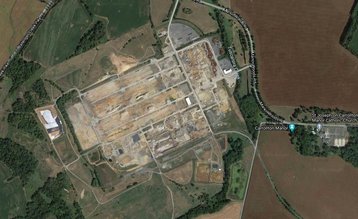 Quantum Loophole is creating a gigawatt-scale data center campus on the site of a former aluminum smelting plant 20 miles north of Ashburn in Maryland.
In May 2022, Aligned Data Centers became the first company to publicly announce plans to develop a data center at the Quantum Loophole campus. Andrew Schaap, CEO of Aligned Data Centers, said at the time that the "attractive tax exemptions, power availability, and proximity to Northern Virginia" were key drivers in its decision to choose Frederick County.
While the company didn't outline the size of its development of the site at the time of the announcement, it has now revealed the scale of its project there.
Aligned originally updated its website to say its Maryland plot spans 75 acres, with the company is planning a total of 1.3 million sq ft (120,800 sqm) and 192MW of capacity in four multi-story buildings spanning 325,000 sq ft (30,200 sqm) and 48MW per facility.
It has since reached out to DCD to say it is planning to develop 3.3 million sq ft (306,580 sqm)and 264MW of capacity at the site.
Aligned said campus, build-to-scale, powered shell, and scale data center development options are available, with initial capacity delivery expected 18 months from commitment.
Aligned has already begun work on the site. The company's plot is located in the center of the Quantum Loophole campus, with a small number of Aligned-affiliated staff on-site and doing groundwork as DCD was given a tour of the site in November. Quantum has said the site will be ready with power, water, and fiber around late 2023/early 2024.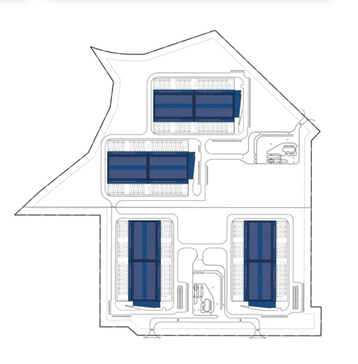 Quantum Loophole CEO Josh Snowhorn has previously said the company has signed contracts with four different entities representing more than 240MW for the Frederick site, representing the first phase of power available to the site.
It is unclear which other companies have leased space at the site, or the scale of each project, Snowhorn recently made references to 'multiple hyperscalers' and government customers while talking to DCD.
While some of the 'smaller' plots measure more than 70 acres, the company told us that most interested parties are looking at developing multi-building mini-campuses within the wider Quantum Loophole park averaging around 200 acres or more.
"One of the hyperscalers is engaged with us for 300 acres and around 800MW of power across is eight buildings; that will be two parcels of four buildings at two stories tall and 100MW each, and they'll interconnect those and use those as two distinct availability zones," Snowhorn said. "Another client is taking 50 to 65 acres and they're going to put up anywhere from three to four two-story buildings in a little bit denser environment."