Viasat is to sell its tactical data link business to L3Harris.
The satellite firm this week entered into a definitive agreement to sell its Link 16 Tactical Data Links (TDL) business to L3Harris Technologies for $1.96 billion.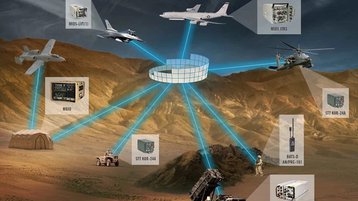 First introduced in the 1970s to support air interdiction missions during the Cold War and part of the company's Government Systems segment, the Link 16 TDL network serves government and military customers, and is integrated on military aircraft, ground vehicles, surface vessels, and operating bases, enabling warfighters across multiple domains to securely share voice and data communications.
The sale of the business includes the Multifunctional Information Distribution System (MIDS) platforms and associated next-generation Link 16 terminals and handheld radios, as well as the Link 16 to space business. The Link 16 TDL business includes 450 employees and had approximately $400 million of revenue and an estimated $125 million of Adjusted EBITDA for the 12 months ended June 30, 2022.
The sale is expected to close in the first half of the calendar year 2023 and is subject to regulatory approvals and customary closing conditions. Viasat received approval for the Link 16 TDL sale from Inmarsat's equity sponsors; the two companies are undergoing a merger.
"This transaction will transform our balance sheet, reduce cash interest obligations, and sharpen strategic focus while enabling continued growth opportunities for the Link 16 business and assuring our customers of a competitive, innovative and reliable source for their future needs. The Link 16 Tactical Data Links business has been an important contributor to Viasat's growth and earnings and the transaction recognizes the value created by our outstanding team. L3Harris has been a long-time Link 16 strategic partner and has a portfolio that will benefit significantly from these capabilities. Looking ahead, the ViaSat-3 constellation and the Inmarsat acquisition both create greater forward-looking government systems growth opportunities in space-based businesses with more R&D, capital, and operational synergies," said Mark Dankberg, CEO and Chairman of the Board, Viasat.
Link 16, largely based out of Carlsbad, California, has an installed base of over 20,000 aircraft, ships, and ground platforms globally.
L3Harris said the deal will allow the company to expand resilient communication and networking capabilities to a larger user base, achieving broader end-to-end, sensor-to-shooter connectivity – from operators to platforms or weapons data links and beyond – across multiple domains.
"Acquiring Viasat's TDL product line will amplify our existing capabilities as a leading provider of resilient networking solutions," said Christopher E. Kubasik, L3Harris CEO and Chair. "Global national security requirements are increasing rapidly in this sector, and now we will be able to advance JADC2 and broaden our multi-function, multi-domain mission solutions through integration with Link 16."
Viasat said it intends to use the proceeds of the Link 16 TDL sale to reduce net leverage and increase liquidity.
Going forward, Viasat said its Government Systems segment will focus on three core areas: broadband and narrowband Satcom services, networking and technology; information assurance and cybersecurity; and space-based services, including LEO to GEO relay and networks.
J.P. Morgan Securities LLC is serving as lead financial advisor and PJT Partners is serving as financial advisor to Viasat. Latham & Watkins LLP is serving as legal advisor to Viasat.
Qinetiq sells Space NV unit to Redwire Corporation
In other space news, British defense firm Qinetiq is selling its Space NV unit to Redwire Corporation for €32 million ($31.6m).
Founded in 1983, Space NV is a Belgium-based commercial space business providing the design and integration of small commercial satellites, docking and berthing systems, and instruments for end-to-end space missions; its principal customer is the European Space Agency. Qinetiq said that while the space domain remains an integral part of the company's core defense and security strategy, Space NV's products provide limited operational synergies and alignment with the wider company.
Steve Wadey, Group Chief Executive Officer of QinetiQ, said: "Today's acquisition and disposal announcement reinforces the focus of our growth strategy on our six distinctive offerings in our three home countries, delivering mission-critical solutions for our customers."
Created by private equity firm AE Industrial Partners in June 2020, Redwire has acquired a number of space technology companies and provides a number of components and services including satellite battery, sensor, communications, and solar equipment.
Peter Cannito, Chairman and Chief Executive Officer of Redwire, said: "Space NV is expected to provide Redwire with increased scale, broader access to addressable markets, and significant backlog to bolster our growth platform. Redwire and Space NV together equate to over 100 years of combined history and expertise supporting some of the most stalwart space customers in the world. These deep customer relationships are foundational to our future growth."
Erik Masure, Managing Director of Space NV, added: "We are excited to be combining our business with Redwire, a leader in space infrastructure well positioned to help us continue delivering on Space NV's potential in the international space market. We are confident that Space NV will benefit from Redwire's expertise, talented team, and leading infrastructure, and look forward to the future growth opportunities ahead for our business and employees. Joining forces with Redwire is an ideal path forward for Space NV as we continue to design and deliver mission successes to our customers."
Jefferies LLC is serving as financial advisor and Kirkland & Ellis LLP is serving as legal advisor to Redwire. Kroll, LLC is serving as financial advisor and Osborne Clarke is serving as legal advisor to QinetiQ Group. The transaction is expected to complete within 6 weeks.