In order to grow its real estate portfolio, wholesale colocation provider Vantage Data Centers has raised another $225m by issuing securitized notes. The notes are rated A- by Standard & Poors.
Vantage was the first data center company to secure funding in this way - raising $1.125bn in February 2018 - allowing it to pay off existing credit facilities with lower interest rates, and, combined with a $500m investment from Digital Bridge, to fund its physical expansion projects.
Dream big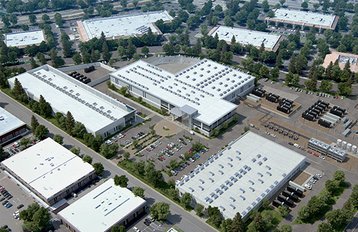 The company's CFO, Sharif Metwalli, said that having explored both traditional and alternative means of financing, the company was "pleased with the response from the investment community."
He added: "This transaction provides us with additional dry powder to finance our growth in existing and new markets, meeting our hyperscale, cloud and enterprise customers where they need the wholesale, sustainable facilities we provide."
Founded in 2010, Vantage was initially backed by major technology investor Silver Lake Partners. Then, earlier this year, it was acquired by a consortium led by global investment firm Digital Bridge for $1.2bn.
Its first campus, a former Intel facility, on which the company recently completed the final expansion with a four-story, 15MW data center, is the largest wholesale site in Silicon Valley - the third largest data center market in the US.
The company has no intention of curtailing its ambitions for growth, and is building a $1bn, 108MW campus in Ashburn, Virginia. In its first phase, the site will offer 24MW of total power capacity, with 6MW available in early 2019.
Additionally, Vantage recently broke ground on a second campus in Santa Clara, which will support up to 69MW worth of IT.