Vantage Data Centers has opened another data center in Cyberjaya, Malaysia, and started work on a third at the same campus.
The company this week announced the on-schedule delivery of a second data center (KUL12) on its Cyberjaya campus in Kuala Lumpur, Malaysia.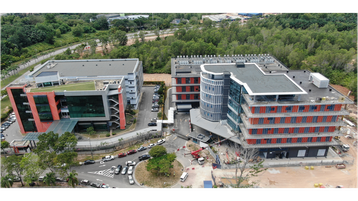 The four-story KUL12 has been in construction since May 2021; the new data center plus the existing KUL11 facility provide a combined 10MW of capacity across 194,000 square feet of space.
Vantage also announced it is constructing a third facility (KUL13) on the same four-acre campus, which will offer an additional 5MW of capacity and is due live in the first half of 2023.
"Vantage is actively investing in new developments in Malaysia to serve growing customer demand and support the country's aspiration to become a digital economic hub," said Brian Groen, president of Vantage's APAC business. "We are excited to open the doors to this additional data center while continuing our expansion and investment in greater Kuala Lumpur."
"We are thrilled to have Vantage Data Centers be part of our thriving digital economy. Their presence here is a sign of continued confidence towards Malaysia's robust and enabling data center ecosystem, digitally skilled talent, and world-class infrastructure," said Mahadhir Aziz, CEO of Malaysia Digital Economy Corporation (MDEC).
DigitalBridge-owned Vantage entered the APAC market last year after DigitalBridge acquired PCCW's data center business and merged both it and AgileDC into Vantage.
The Kualar Lumpur site was taken over by Vantage as part of the PCCW acquisition.