Vantage has announced the second phase of development at one of its data center campuses in Frankfurt, Germany.
The company this week announced that it will build the second of three buildings on its 55MW EU campus (FRA1) located in Offenbach.
The facility will include 16MW of capacity and 13,000 square meters (140,000 square feet) once fully developed and will open to customers in the first half of 2024.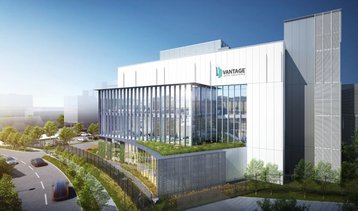 The first 15MW building at the campus opened in November 2020. The facility was originally under development by Etix Everywhere, which Vantage acquired in February of that year for an undisclosed sum.
Vantage announced that it had acquired full ownership of the first data center, buying out its joint venture partners Energieversorgung Offenbach (EVO) and DataCenter-Group (DCG). Vantage will continue in a new partnership with EVO as the energy provider and landowner of the campus. Terms of the deal were not disclosed.
"Vantage continues to accelerate our growth in Frankfurt and Offenbach, the most sought-after data center markets in Europe, to meet demand from our hyperscale and cloud customers," said Antoine Boniface, president of EMEA for Vantage Data Centers. "Our partnership with EVO and DCG was instrumental in opening this campus quickly to customers, and we thank them for their support to reach such a critical milestone."
"We are thrilled to continue our partnership with Vantage in this new capacity. Individually, we will focus on our core competencies, yet together, we are enabling the technology of today and tomorrow. This also includes sustainable and ecological solutions for the future," said Dr. Christoph Meier, chief executive officer of EVO.
Vantage added that, alongside EVO, the two companies will repurpose the waste heat from the new data center and make it available to the local community for district heating purposes.
The company broke ground on a second Frankfurt in December 2021. The five-acre campus located in Raunheim will provide 40MW and total more than 355,000 square feet (33,000 sq m) once complete. The initial phase of this five-story facility is scheduled for delivery in the fall of 2022.