The average US electricity customer experienced just over eight hours of electric power interruptions in 2020, an increase of more than three hours over 2019.
The outages were the worst on record for US government agency the Energy Information Administration, which began tracking the average duration of total annual electric power interruptions in 2013. Back then, outages were on average less than four hours.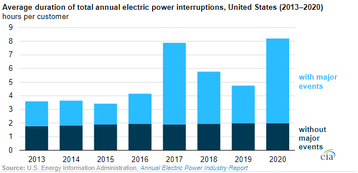 The District of Columbia, Arizona, Nevada, North Dakota, and South Dakota were the best performing states, with average interruptions ranging from 44 minutes in the District of Columbia to 101 minutes in South Dakota.
Customers in Alabama, Iowa, Connecticut, Oklahoma, and Louisiana experienced the most time with interrupted power in 2020, ranging from almost 29 hours in Alabama to 60 hours in Louisiana.
The weather is getting worse
These long interruptions were largely because of major weather events, which have become more common and more damaging due to anthropogenic climate change. The US was hit by 14 hurricanes in 2020 and 11 major storms.
The year was the most active storm season in Louisiana's history, while Alabama and Connecticut were also hit by brutal weather events
A derecho - a widespread, long-lived, straight-line wind storm - damaged grid infrastructure in Iowa and the wider Midwest. The derecho led to the early retirement of Iowa's only nuclear power plant, the Duane Arnold Energy Center, ahead of the plant's scheduled October 2020 decommissioning. The event proved the costliest thunderstorm in US history.
Oklahoma saw widespread power outages due to an ice storm.
The spike in outage times was purely linked to these storms, the EIA said. Take away extreme events, and outage times have remained a little under two hours since 2013 - with things like wildlife and tree-trimming to blame.
Such storms are expected to get more frequent, and become much more devastating. This will have a knock-on effect on the data center industry. In 2019, Californian wildfires caused a supercomputer to shut down, while this year's record Texas storm took out semiconductor fabs and saw data centers launch desperate bids to truck in fuel.
The new Bipartisan Infrastructure Deal passed this month plans to spend $65 billion on improving the US grid, including building thousands of miles of transmission lines for renewable energy. It also creates a new Grid Deployment Authority, and puts money aside for R&D into advanced transmission and electricity distribution technologies.
The new deal plans to invest in demonstration projects and research hubs for next generation technologies like advanced nuclear reactors, carbon capture, and clean hydrogen.
But, given the scale of the challenge, such efforts only fix some issues - while climate change continues to get worse. The Biden Administration's Build Back Better Act had hoped to help lower US emissions and improve its climate resilience, as well as provide child care and health care, among other benefits.
But the act has repeatedly been cut back in scale from a $3.5 trillion reconciliation package, to currently $1.75 trillion, and has been repeatedly delayed. The act has primarily been held up by Senators Kyrsten Sinema and Joe Manchin.
Senator Manchin in particular, owns millions of dollars in stocks in a coal company he started and gave to his son. Earlier this year, investigative reporters for Greenpeace caught a senior lobbyist for oil giant Exxon bragging about his access to Manchin: "Joe Manchin ― I talk to his office every week. He is the kingmaker, and he's not shy about staking his claim early and completely changing the debate," the lobbyist said.