A long-haul submarine fiber optic link from New Jersey to Florida, connecting via communications hubs in Virginia and South Carolina, is to go ahead following an investment in the project from infrastructure company MasTec.
From US to US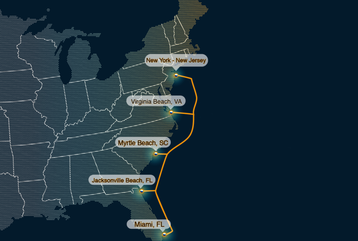 The link will run from Wall Township, New Jersey, just south of New York, down the Eastern Seaboard. It will also have three branches into the main global communications nodes on the US east coast: Virginia Beach in Virginia; Myrtle Beach, South Carolina; and Jacksonville Beach, Florida; and will terminate in Miami, Florida.
In addition to the three branches, it will also interconnect with international cable systems and is scheduled to go into service from the second-half of 2023.
The low-latency link will run to 2,571 kilometers in total, providing 24 fiber pairs and offering more than 500Tbps in capacity once the network is completed.
Confluence Networks was only founded in 2019 by a "group of seasoned industry professionals," according to the company's website, with the purpose of fundraising to build the proposed Eastern Seaboard high-speed network.
"The network specifically addresses the lack of availability of continuous dark fiber and truly diverse routing on the North-South route between New York and Miami," according to Confluence.
The company is led by CEO Paul Scott. "We see Confluence-1 as an opportunity to make a game-changing addition to both the US domestic network and the intercontinental network on the East Coast, and look toward many more such opportunities as the global network evolves," said Scott.
Scott claims 30 years of experience in the international communications industry, including 18 years in subsea networking. Previous postings include Caribbean Crossings and C&W Networks, where he served as President.
Alongside Scott is Valentina Gallardo, also a co-founder, who boasts 20 years of experience in global telecommunications with Telefonica, Level 3, and Progress Telecom. The third co-founder is David G. Ross, who has worked in the industry for more than 50 years, including stints with AT&T Submarine Systems, Bell Labs, and Tyco Submarine Systems.
Further reading
The rate at which subsea cable projects are announced is an indication that demand is likely to remain high 

The demand for subsea cables will soon exceed capacity

Why terrestrial connectivity matters to the cable landing station