The US Department of Energy (DOE) has closed on a $504.4 million loan guarantee to the Advanced Clean Energy Storage (ACES) project in Utah.
The first loan guarantee for a new clean energy technology project from DOE's Loan Programs Office since 2014 will help fund the world's clean hydrogen and energy storage project in the world.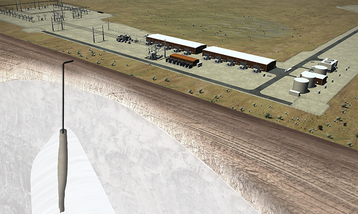 The Advanced Clean Energy Storage project is expected to create up to 400 construction and 25 operations jobs.
"Since President Biden's first day in office, DOE has made it a priority to leverage the potential of the Loan Programs Office to fund emerging technologies that will deploy clean and reliable energy to Americans," said US Secretary of Energy Jennifer M. Granholm.
"Accelerating the commercial deployment of clean hydrogen as a zero-emission, long-term energy storage solution is the first step in harnessing its potential to decarbonize our economy, create good paying clean energy jobs and enable more renewables to be added to the grid."
ACES plans to build 220MW of electrolyzers that aims to use carbon-free electricity to convert water to up to 100 metric tons of hydrogen a day.
That hydrogen is set to be stored in two huge salt caverns, with space for 5,500 metric tons of hydrogen.
That will be used as energy storage and supply for the Intermountain Power Agency's (IPA) IPP Renewed Project, an 840MW hydrogen-capable gas turbine combined cycle power plant. It will initially run on a blend of 30 percent green hydrogen and 70 percent natural gas by volume starting in 2025 and will increase to 100 percent by 2045.
The owner of the caverns, Magnum Development, and Mitsubishi Power Americas are partnering on the ACES project. With the DOE backing, ACES is currently securing $650 million in equity.
"We are unbelievably excited to reach this important milestone, not just for our hub, but for the hydrogen industry as a whole," said Michael Ducker, SVP of Hydrogen Infrastructure for Mitsubishi Power Americas and President of Advanced Clean Energy Storage I.
"Equally rewarding is having spent the past year partnering and working with such a forward-thinking and incredibly talented team from the Intermountain Power Agency to trail blaze this market-leading facility. We are honored to be sharing this industry moment with them along with all of our world-class partners joining this effort."
The DOE backing comes the same week as the department said that it would spend $8bn on hydrogen hubs across the US.
The data center industry has long considered green hydrogen as a way to rid itself of diesel-powered backup generators.
In February, Dutch data center operator NorthC announced that it would install hydrogen fuel cells at its Groningen facility, the first in Europe. It will be followed by Verne Global in Iceland.
Microsoft has also invested heavily in exploring the sector. It powered a row of data center servers for 48 consecutive hours using hydrogen fuel cells back in 2020, using a 250kW fuel cell from Power Innovations. Late last year, it partnered with Caterpillar and Ballard Power Systems to trial 1.5MW hydrogen fuel cells.
Keppel Data Centres is studying powering its data centers in Singapore with hydrogen, signing multiple memorandums of understanding with businesses to study the space - however, it may use hydrogen formed from natural gas.