The US Department of Energy has launched an $8 billion program to develop clean hydrogen hubs across America.
The H2Hubs program aims to "create networks of hydrogen producers, consumers, and local connective infrastructure to accelerate the use of hydrogen as a clean energy carrier," the DOE said.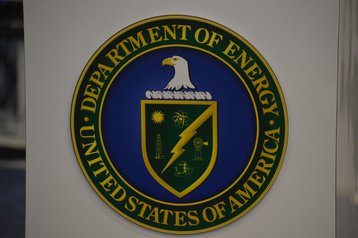 The Bipartisan Infrastructure Law will fund at least four such hubs, and a DOE Notice of Intent says that the agency may launch six to 10 hubs to start the program.
"Hydrogen energy has the power to slash emissions from multiple carbon-intensive sectors and open a world of economic opportunity to clean energy businesses and workers across the country," said US Secretary of Energy Jennifer M. Granholm.
"These hydrogen hubs will make significant progress towards President Biden's vision for a resilient grid that is powered by clean energy and built by American workers."
However, the DOE's version of clean energy could be up for debate. While the Notice of Intent, says at least one hub will focus on making hydrogen using renewable energy, and another will explore nuclear, a third aims to make clean hydrogen from fossil fuels by pairing it with carbon capture and sequestration.
That final approach is controversial. Even if a fossil fuel-based hydrogen plant can capture most of the carbon dioxide, methane emissions remain a dangerous climate change-exacerbating risk. The capture also does not include the impact of methane leaks from wells and pipelines heading to the plant.
Even the renewable-powered hub has some drawbacks, if it relies on existing renewable energy sources and therefore stops someone else from using it.
Nonprofits at the Union of Concerned Scientists and RMI called on the DOE to clarify their concerns and adopt more stringent standards for what makes a hydrogen project clean. "Otherwise, it threatens to support the deployment of hydrogen production pathways that will never align with climate goals," the Union's senior energy analyst Julie McNamara said.
The data center industry has long considered green hydrogen as a way to rid itself of diesel-powered backup generators.
In February, Dutch data center operator NorthC announced that it would install hydrogen fuel cells at its Groningen facility, the first in Europe. It will be followed by Verne Global in Iceland.
Microsoft has also invested heavily in exploring the sector. It powered a row of data center servers for 48 consecutive hours using hydrogen fuel cells back in 2020, using a 250kW fuel cell from Power Innovations. Late last year, it partnered with Caterpillar and Ballard Power Systems to trial 1.5MW hydrogen fuel cells.
Keppel Data Centres is studying powering its data centers in Singapore with hydrogen, signing multiple memorandums of understanding with businesses to study the space - however, it may use hydrogen formed from natural gas.