Abu Dhabi-state-owned semiconductor manufacturer GlobalFoundries has signed another deal with the US Department of Defense.
GF will develop chips at its Fab 8 in Malta, New York, for military applications. Last year, the company made the facility International Traffic in Arms Regulations (ITAR) and Export Administration Regulations (EAR) compliant giving it a greater ability to sell to the military-industrial complex.
For more breaking data center news, features, and opinions, be sure to subscribe to DCD's newsletter
A step up for military chip production in US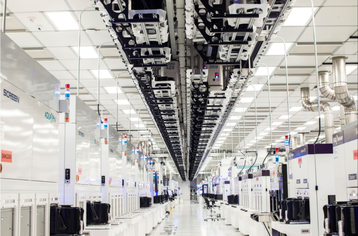 The agreement builds upon a long partnership between the DoD and GF, with the latter's Fab 10 in East Fishkill, New York (180-14nm), and Fab 9 in Burlington, Vermont (350nm-90nm), also supplying the military with chips. Both sites are former IBM fabs, which GF took over in 2014 in return for also getting $1.5bn (yes, IBM paid GF to acquire its foundry business). Now, On Semiconductor Corp is set to acquire the Fab 10 for $430m.
But Fab 8 is GlobalFoundries' most advanced factory in the US, capable of 45-16nm process node production - still far larger than the 7nm process node developed by TSMC in Taiwan, but a step up from the 65nm and larger chips much of the defense industry has relied on.
"GlobalFoundries is a critical part of a domestic semiconductor manufacturing industry that is a requirement for our national security and economic competitiveness," said Senate Majority Leader Chuck Schumer.
"I have long advocated for GlobalFoundries as a key supplier of chips to our military and intelligence community, including pressing the new Secretary of Defense, Lloyd Austin, to further expand the Department of Defense's business with GlobalFoundries, which will help expand their manufacturing operations and create even more jobs in Malta."
The first chips from the new partnership are expected to begin delivery in 2023. GF said that it "is in ongoing discussions" with the DoD regarding Trusted Accreditation for Fab 8, which would further certify the security of its supply chain.
A little under 3,000 people work at the factory, which has seen $13bn in investment since it was acquired by GlobalFoundries.