A new data center is set to be deployed in Tripoli, Libya early next year.
The small prefabricated facility will be operated by regional telco Trans-Sahara in a joint venture with public sector body Tatweer.
Coming at a difficult time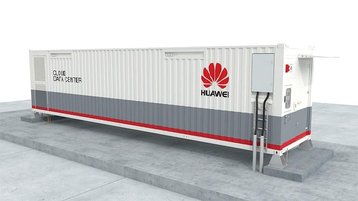 The data center, a Huawei FusionModule1000A containerized facility, will be used to provide private cloud services to government agencies and local companies. So the financial sector can benefit from the facility, Trans-Sahara and Tatweer plan to get the Payment Card Industry to certify that it confirms to PCI DSS (Data Security Standard) specifications and standards.
"Tatweer is a public sector body owned by the Libyan Local Investment & Development Fund, LLIDF, while Trans-Sahara is a private company and a member of HB group," Ehab Elghariani, Trans-Sahara's data center unit manager, told DCD.
"The partnership between Tatweer and Trans-Sahara represents the public private-sector partnership. while both our companies share the same DNA and vision 'to serve a purpose higher than just a job, for the good of humanity and Libya,' each company has something unique to bring to the table. While Tatweer are trying to research many government and public problems, Trans-Sahara a facilitates the access to IT resources and solutions."
But operating in the troubled nation poses several obstacles, Elghariani admitted to DCD: "There are multiple challenges, mainly the political unrest, electricity instability & infrastructure. We are willing to overcome the latter two challenges and minimize the impact of the first."
Since Muammar Gaddafi was deposed in a NATO-backed uprising in 2011, Libya has been gripped by bitter internal conflict. The self-styled Field Marshal Khalifa Haftar, with support from Egypt, Russia and the UAE, controls much of the nation's east.
Tripoli is held by the interim government, the Government of National Accord, which is recognized internationally and by the UN. The government also controls the country's lucrative oil production. Haftar is thought to have promised Russia such resources in exchange for backing, including support from the Wagner Group, a Russian private military firm linked to a close Putin associate.
"We will spill a lot of blood, it will be very dirty, but we will take the country. And you will like the result. You will get oil, railways, highways, anything that you want," Haftar told Russian officials, investigative media outlet Meduza reports.
Fighting on the outskirts of Tripoli continues, after Haftar's forces launched a campaign to take the capital in April. Infrastructure in the city "has been gradually ground down by intermittent conflict and political paralysis," Reuters said in an article earlier this week.