Thales Alenia Space has won a contract to demonstrate its high-altitude pseudo satellite (HAPS) airship.
The Thales/Leonardo joint venture has signed a €43 million ($45.7m) contract for the EuroHAPS demonstration project.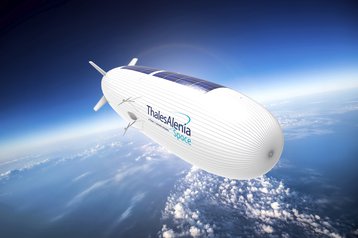 EuroHAPS aims to develop several stratospheric demonstrators for missions designed to improve intelligence, surveillance, and reconnaissance (ISR) and communications capabilities.
"We would like to thank all the institutional investors contributing to this project for their confidence and support in making this demonstration a reality," said Hervé Derrey, CEO of Thales Alenia Space. "It is undoubtedly one of the most ambitious demonstrations ever undertaken, and will make Europe a pioneer in this new aerospace segment."
The project will conduct flight demonstrations for three different stratospheric platforms:
A 'reduced-scale' Stratobus – a solar-powered high-altitude airship – from Thales Alenia Space.
A Hybrid High Altitude Airship (HHAA) from CIRA.
An Autonomous Stratospheric Balloon System (ASBaS) from ESG and TAO consisting of a series of three altitude-controllable balloons.
Thales Alenia Space said the three platforms were complementary, offering Europe a 'broad spectrum' of HAPS solutions to meet different requirements.
EuroHAPS was selected by the Euro Defence Fund last year and is working with six defense ministries (France, Italy, Spain, Germany, Hungary, and the Czech Republic), the European Commission, the French Sud regional authority, and the Canary Islands region.
Demonstration flights are planned in Sardinia, Italy, and Fuerteventura of the Canary Islands in 2024.
The project features 21 partners, and 18 subcontractors, from 11 countries, including CIRA, Elettronica, and Leonardo from Italy; ONERA and CEA from France; INTA from Spain; and ESG with TAO from Germany.
HAPS – whether they be airships, balloons, or fixed-wing drones – offer a way to provide connectivity to rural and unconnected areas without the upfront costs of cell towers or satellites or the need for specialist receivers.
The Stratobus platform will be a non-rigid helium airship. Thales Alenia Space said the full-sized platform will be around 140 meters in length, propelled by four electric motors, with more than 1,000 sqm of solar cells. It will operate at altitudes of 18-20 kilometers (11-12 miles) and carry payloads of 250 kilograms rated at five kilowatts.
Tao has developed a segmented airship platform known as the SkyDragon that will operate at altitudes of around 20 miles as well as a smaller, lower-altitude solar-powered airship known as Lotte.
Google/Alphabet's now-defunct high-altitude balloon unit Project Loon was probably the most famous HAPS project, but a number of companies are looking to develop a successful platform in the space. Other players include Airbus, SoftBank (via its HAPSMobile unit), Stratospheric Platforms, Avealto, and BAE.
This week SoftBank announced it has developed a new HAPS battery pack with Lithium-metal cells and conducted a successful demonstration in the stratosphere.
The battery pack was developed in partnership with ENAX Inc and used cells from Enpower Japan, offering 439Wh/kg of energy. The company conducted a charge-discharge cycle test of the battery pack in the stratosphere above the US between January 30 and February 2 with its HAPSMobile subsidiary.