High altitude pseudo satellite (HAPS) company Avealto has filed a trademark dispute against Airbus for renaming its HAPS venture 'Aalto HAPS Ltd', claiming the name is too similar to Avealto's.
Avealto was established in the UK in 2013. The company argues that Airbus's rename will threaten its ability to raise funds and market its product. On Monday, the company sent a 'cease and desist' letter to Aalto.
As well as sending Aalto the cease and desist notice, Avealto managing director Walt Anderson sent a publicly available letter to the UK secretary of state for business and trade, Kemi Badenoch.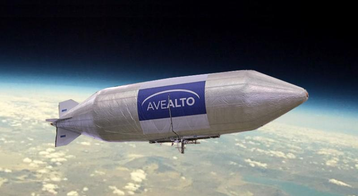 "The actions by Airbus and its subsidiary, Aalto HAPS Ltd, are disappointing. Their actions demonstrate a clear infringement of our trademark and have left us with no choice but to take legal action," wrote Anderson.
While Anderson says the company welcomes competition as it 'can only be to the betterment of consumers', they go on to argue that this renaming "appears to be a rather cynical attempt by Airbus to restrict our ability to raise funds and market our services and to stifle its competition. This would be detrimental to consumers and jeopardize the hundreds of direct and indirect jobs we are set to contribute to Britain's post-Brexit economy once we are fully operational."
The letter goes on to request that Badenoch urge Airbus to review its renaming decision, and to 'halt any future procurement agreements with Aalto' until the matter is resolved.
Airbus's HAPS company, launched in July 2022, was previously called the 'Zephyr HAPS Platform' but has since been renamed Aalto HAPS. According to the company, the 'A' is for Airbus and 'alt' for the altitude, while the 'o' represents the platform's 'limitless flight capabilities.'
High Altitude Pseudo Satellites can be airships, balloons, or fixed-wing drones and are designed to stay airborne for months at a time and offer an alternative method of connectivity in rural and sparsely populated areas without the upfront costs of cell towers or satellites. The technology can also be used to provide temporary connectivity after traditional telecoms infrastructure has failed, for example after an earthquake.
Airbus's Aalto HAPS is a fixed-wing drone with a wingspan of 25m, weighing 75kg. The HAPS flies at around 70,000 ft and is powered by solar panels. Avealto's HAPS technology is an airship or balloon and is 28 meters long. It is designed to remain in a stationary position at an altitude of 20km to 25km (65,000 to 82,000 ft).
While both companies provide the service, Avealto claims to be a more 'attactive commercial offering' than Aalto's as it is 'simpler, more reliable, and more cost effective'.