Defense giant Airbus is looking to begin commercial operations of its Zephyr high-altitude drone and may spin-out the company.
Zephyr is a solar-powered high-altitude pseudo satellite (HAPS) that is being developed by the company.
The FT reports the company intends to spin off Zephyr into its own telecoms and earth observation company named 'Aalto' and is looking to raise funds to enable this commercialization.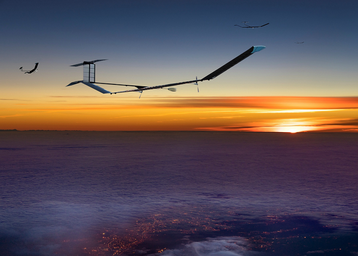 HAPS can be airships, balloons, or fixed-wing drones like Zephyr, and are designed to stay airborne for months at a time and offer an alternative method of connectivity in rural and sparsely populated areas without the upfront costs of cell towers or satellites. The technology can also be used to provide temporary connectivity after traditional telecoms infrastructure has failed, for example after an earthquake.
The Zephyr, originally designed by defense group Qinetiq in 2003, was sold to Airbus in 2013. Since then, Airbus has been developing and testing the platform in order to prepare it for commercial use. According to Samer Halawi, who has been leading the program since last summer, the Zephyr is 'now at a final design stage'.
The latest iteration, Zephyr Z8, has a wingspan of 25m while weighing only 75kg. The HAPS is designed to fly at around 70,000 ft (21 km), above the weather and commercial airlines, and is powered by solar panels - enabling it to fly during the day and recharge its batteries which power it at night.
"Airbus is not a company that offers telecom services," Halawi told the FT. "The idea of the carve-out is to bring like-minded partners to the equation and to be able to scale this business."
To help with this, the defense company has hired Morgan Stanley to help them find external partners who can offer financial support. Airbus is reportedly intending to maintain ownership of Aalto, though will consider outside investment.
In August last year, the Zephyr broke a record for the longest flight in history, staying in the air for 64 straight days. The failure on day 64 occurred when the Zephyr dipped below its standard altitude of 70,000 ft to 45,000-50,000 ft, before eventually plummeting to the ground. Halawi stated that this was due to a component failing during bad weather.