An Xfinity fiber cable in Oakland, California, was shot, causing an outage that impacted nearly 30,000 people.
The outage occurred at around 5am on Sunday, a couple of hours after a shooting was reported near the city's Eastmont Mall. The Police Department's ShotSpotter gunfire detection system reported 17 rounds fired, and surveillance footage showed a person inside a vehicle firing shots "into the air."
A Comcast spokesperson said that it had seen bullet damage impact Internet services before.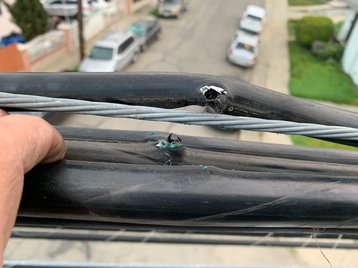 Along with Internet connectivity, all Comcast Xfinity services, including Internet, TV, phone, and home security systems went down.
The outage came the day of the San Francisco 49ers' NFL game against the Los Angeles Rams. Kicking off at 3:40pm, services were restored to some before it began - but Comcast admitted that around 20,000 were still offline by 6pm.
"We could not be more apologetic and sincerely upset that this is happening on a day like today," spokesperson Joan Hammel said. "We're working as fast as we can to make all the repairs and get folks' services back up and running."
Hammel added: "While this isn't completely uncommon, it is pretty rare, but we know it when we see it."
Internet outages have previously been caused by beavers and cows, while submarine cables have been attacked by sharks.