Tencent Cloud has launched a new data center in Indonesia.
The Chinese cloud company this week announced a new facility in the capital Jakarta – its first in the country – which the company said is already in full operation.
Located in the city's central business district, the data center has two utility power lines and 2N redundant transformers as well as N+1 redundant diesel generator with the capacity to support up to 72 hours at full load.
For more breaking data center news, features, and opinions, be sure to subscribe to DCD's newsletter
Indonesia data center market heating up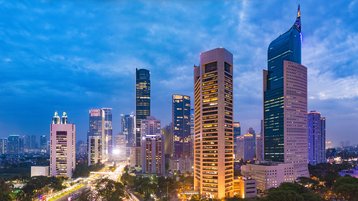 "With a population of 270 million, Indonesia is the fourth most populous country in the world and the largest economy in Southeast Asia. Given that its population structure is younger, it has a huge internet demographic dividend and its mobile internet market is quickly developing," said Poshu Yeung, SVP of Tencent Cloud International. "We are excited to launch our first Tencent Cloud IDC (Internet data center) in Indonesia, aiming to help fully reach the peak of the country's promising cloud computing potential."
The company listed Bank Neo Commerce (BNC), music streaming platform JOOX, and communication app company Aestron as customers of the new facility.
"The launch of the new Tencent Cloud IDC in Indonesia is a much-welcomed boost," said Tjandra Gunawan, president director of BNC. "We look forward to reaping the benefits of this new development, which will, in turn, allow us to further serve our customers' evolving needs. Through this collaboration with Tencent Cloud, BNC emphasizes its commitment to provide the best technology product services as we understand that data security and privacy are very crucial in the digital technology industry."
A number of companies are looking to expand into Indonesia; Microsoft announced its first Azure cloud region in the country earlier this year, and Alibaba is looking to build its third facility in the country before the end of the year. Google completed work on its first Indonesian facility last year, and AWS's first facility in the country is due to go live next year.
Tencent is due to build a data center in Bahrain, which will be its first facility in the MENA region, and has facilities planned in South Korea and Thailand.