Canadian satellite operator Telesat has partnered with Thales Alenia Space to create a new constellation of high-speed broadband satellites.
The Lightspeed Low Earth Orbit (LEO) constellation will comprise a fleet of 298 satellites for a combined capacity of 15 Tbps. Each satellite weighs 700 kilos, and Telesat will offer up to 7.5 Gbps for a single terminal, with up to 20 Gbps for a single hub location such as a port. The company is aiming to serve fixed and mobile network operators, aeronautical and maritime users, as well as enterprise customers and governments.
The manufacturing agreement is worth about $3 billion and Thales will be responsible for the space and mission segments of the project as well as the end-to-end network performance of the system. The company would be delivering around one satellite per week with manufacturing mostly based in its existing French facility, with potential expansion in Europe and a facility in Canada if required. Jeff Bezos' Blue Origin is due to provide part of the launch capacity for the new fleet.
For more breaking data center news, features, and opinions, be sure to subscribe to DCD's newsletter
"We are very pleased to be moving forward with Thales Alenia Space on Lightspeed, the most advanced and capable LEO network in the world," said Dan Goldberg, President and CEO of Telesat.
"As the world's leader in manufacturing and implementing cutting edge global satellite constellations, Thales Alenia Space is the right industrial partner to deliver Lightspeed, a fully integrated global communications network that will revolutionize satellite-delivered broadband and give Telesat and its customers a decisive competitive edge in this high growth market."
Internet space race accelerating as Low Earth Orbit gets increasingly crowded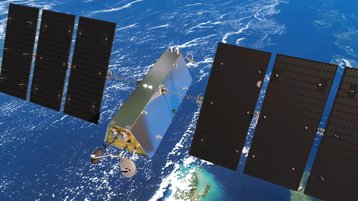 Operating in the Ka-band spectrum, the first Lightspeed satellites are expected to be launched in approximately two years, and the company expects to be operational in the second half of 2023. The entire project will cost $5 billion to deliver.
"The name Lightspeed underscores the essential speed advantages inherent to Telesat's LEO design," added Goldberg. "Lightspeed is the most technologically capable satellite communications network in history and exploits the latest advances in space-based data processing, laser communications, digital antenna technology, and machine learning."
OPINION: Why Gigabit speeds from above are coming soon
Telesat is just one of many companies looking to improve satellite-based connectivity, and the race to provide high-speed Internet from LEO has accelerated significantly in recent years. SpaceX's Starlink has already launched thousands of small satellites into LEO, but that constellation is mostly focused on consumer broadband. AWS's Project Kuiper aims to launch over 1,000 satellites and is expected to offer backhaul solutions for wireless carriers extending LTE and 5G service to new regions.
While it has scaled back its plans, OneWeb still plans to launch hundreds of satellites into LEO and provide broadband connectivity. According to Bryce, more than 2,400 satellites are currently operational in orbit, with more than 1,700 small satellites launched in the last decade. Planet and SpaceX own more than half of the small sats that have been launched.
However not all high-altitude connectivity plans succeed. Last month Google's parent company Alphabet closed down its Loon subsidiary. The broadband balloon project was designed to provide rural and under-served areas with Internet connectivity.