Telehouse has opened its latest data center in London, UK.
The KDDI-owned company this week announced the official opening of its fifth data center in London, Telehouse South.
Located at the company's campus in London Docklands, Blackwall Yard, Telehouse South is now the provider's largest facility. Customers have already begun moving into the facility.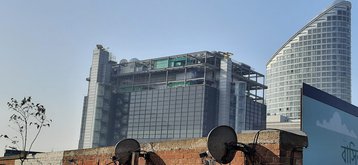 The first phase of development has capacity for up to 668 racks and 2MW of power across two data halls and 1,700 sqm (18,300 sq ft), with a further upgrade to 2.7MW for an additional data hall scheduled for the end of 2023.
At full buildout, the 31,000 sqm (333,700 sq ft) facility will provide 12,000 sqm (129,000 sq ft) of colocation space across six floors and a total power capacity of 18MW.
The ten-story facility was acquired from Thompson Reuters last year, with the first phase of the project completed in less than 12 months on from the acquisition: the company says it will have invested £223 million ($294m) once fully developed.
Telehouse South is powered by 100 percent renewable energy procured from certified wind, solar, biomass, and hydro generators.
Seigo Fukuhara, European Bloc chief and managing director, KDDI Europe, and Telehouse Europe said: "London Docklands remains an important strategic location for us and one of the most critical interconnection points in the world. As businesses continue to accelerate their digital transformation post-pandemic and demand for digital services grows, Telehouse South offers enterprises greater efficiency through scalable hybrid cloud infrastructure, with faster access to data and applications and the flexibility to grow."
During a tour of the new facility, Telehouse told DCD the entire facility was stripped back to its shell and core and subsequently refurbished. Risers were made smaller and ceilings raised. Additional security measures were also put into place internally and externally. A network of 7,000 dark fibers across two diverse routes interconnects Telehouse South with the existing four data centers.
The company said it made the choice to refurb rather than build a new building due to speed to market amid increasing customer demand, alongside the sustainability benefits of keeping the existing structure. The existing security measures the facility had in place were also a draw. The data center, purpose-built in 1989 as the Thompson Reuters London Docklands Technical Centre, was put up for sale in mid-2019.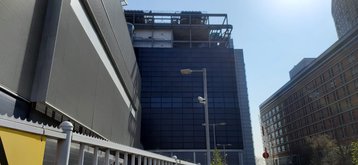 Phase two will see additional security installed on the outer fencing, and the current backup generators replaced with more energy-efficient gen-sets. The company said it was looking into using HVO as a more sustainable fuel for its generators, although space limitations meant it was unable to install fuel cells. Existing rooftop satellite dishes will be decommissioned and roofspace made available for leasing.
Telehouse said its total investment in the Docklands campus is set to reach £1 billion ($1.3bn) by 2025.
At the launch event, Rajesh Agrawal, Deputy Mayor of London for Business, said the facility's opening was an "amazing investment project for London" and "a vote of confidence in London and the UK in a post-Brexit era."
During the event, Paul Lewis, operations director, Telehouse Europe, noted that the company was also experimenting with robotics and was using 3D modeling software to monitor airflow in its existing Docklands facilities.
On the robotics side, the company is working with an unnamed US robotics firm and after a trial is looking to move into production. Telehouse is initially looking at using them for security purposes, but Lewis eventually hopes to operate the machines inside the data halls to provide a real-time view of conditions, and offer a medium through which customers on-site can quickly engage with Telehouse support teams.
Established as Japanese telecom company KDDI's data center arm in 1989, Telehouse's London North facility was the first purpose-built carrier-neutral data center in Europe, and the company now owns more than 45 colocation facilities in major cities around the world.