American cloud and colocation provider Switch has opened the first phase of what's expected to become the largest data center campus in Eastern US, located in Gaines Township near Grand Rapids, Michigan.
Switch Grand Rapids facility was designed to Tier IV Gold standards and is powered by electricity from 100 percent renewable sources.
The first phase of the project has delivered more than 225,000 square feet of white space, located inside the pyramid building that was previously housing the headquarters of Steelcase, at one point the largest office furniture manufacturer in the world.
The campus is set for rapid growth, and will eventually offer 1.8 million square feet of white space and up to 320MW of power capacity, at a cost of approximately $5 billion.
A new kind of landmark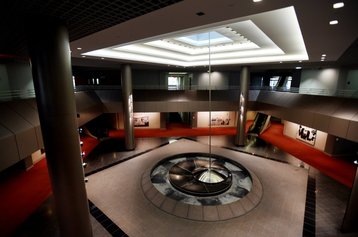 The seven-story Pyramid building located at 6100 E. Paris Ave. SE was used by Steelcase as a corporate design center. It was built for $111 million and opened in 1989, but Steelcase had to move out in 2010 as its profits were hit by a global recession.
Some of the building's unique features include an exterior of glass and granite, a two-level industrial underground complex and 'Synergy', the only spherical compound pendulum in the world that constantly swings in the atrium between the points of sunrise and sunset.
Under new ownership, the building has been rechristened as the Switch Pyramid.
The data center was developed to the same standards as the company's Las Vegas facility. The construction project was led by the Christman Company and has so far involved 700 people, most of them living in Michigan. Switch expects that hundreds more people will be employed as the campus is built out over the next decade.
The company made the decision to build in Michigan after obtaining sales tax and personal property tax exemptions from the state government.
"In the Legislature, we took very seriously our commitment to creating public policy that would enable and encourage new companies like Switch to make Michigan the most competitive state in the region for economic development," said Michigan State Senate Majority Leader Arlan Meekhof, R-Grand Haven.
"Having the technology backbone of the internet right here in Michigan up and running ahead of schedule definitely delivers on the vision of that policy."
"From an economic development perspective, Switch has established a new industry in the state and our region, bringing new opportunities to existing businesses and attracting new interest from outside technology and related companies," added Birgit Klohs, president and CEO of The Right Place, the economic development corporation for the Grand Rapids area.
Switch expects to hold an official 'grand opening' event at the Switch Pyramid later in 2017.
You can see a promotional video for the Grand Rapids campus below: