Switch Inc has begun work on expanding its Pyramid data center campus in Grand Rapids, Michigan.
MiBiz reports that Switch Inc has begun construction on a new data center building at its campus located at 6100 East Paris Ave SE in Kent County.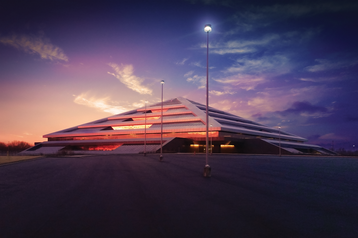 Gaines Township officials approved a site plan amendment in July 2021 for a 312,000-square-foot (29,000 sqm) expansion at Switch's existing data center, located at the former Steelcase Inc. "pyramid" building in Gaines Township.
Township Development Director Dan Wells said the expansion – known as the 'Switch GRR NAP 02' project – is "kind of off and running" with ongoing site preparation work. He added that the company will "start to pour some foundations" before this winter.
According to filings with the local council from May, excavation and pad construction operations commenced on April 2022, and the company was working to complete its Shell building designs and file for permits by the end of June 2022
The company's Q2 earnings report notes that $800,000 was spent at the Gaines Township campus "for site preparation work related to the Grand Rapids 2 data center."
The seven-story Pyramid building was used by Steelcase as a corporate design center. It was built for $111 million and opened in 1989; the company reportedly began moving out in 2010. Switch acquired and re-opened the pyramid property in 2017 for a reported $22.2 million, two years after Steelcase sold the property for $4 million.
The first phase of the project delivered more than 225,000 sq ft (20,900 sqm) of white space; the site will eventually offer 1.8 million sq ft (167,225 sqm) of white space and up to 320MW of power capacity, at a cost of approximately $5 billion.
The company announced it would be adding 940,000 sq ft (87,330 sqm) of data center space in late 2017, with plans to begin construction the following year.