American cloud and colocation provider Switch is set to expand its data center campus in Gaines Township, Michigan, which it opened earlier this year.
The campus is built around an unusual pyramid building formerly owned by Steelcase, the largest office furniture manufacturer in the world.
According to local network WZZM, the company plans to add 940,000 square feet of data center space, and expects to commence construction sometime next year.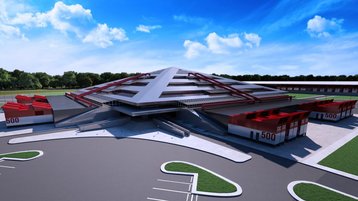 Grow like mushrooms

Switch purchased the landmark seven-story building in 2016. Some of its unique features include an exterior of glass and granite, a two-level industrial underground complex and 'Synergy', the only spherical compound pendulum in the world that constantly swings in the atrium between the points of sunrise and sunset.
The data center campus, built around the Pyramid using Switch's proprietary modules and powered by electricity from renewable sources, was opened in March, offering more than 225,000 square feet of white space.
According to WZZM, half of the existing data halls have already been leased and the company is planning a massive expansion.
Switch previously said it expected to invest around $5 billion in Michigan over 10 years. The company made the decision to build in the state after obtaining sales tax and personal property tax exemptions from the local government.
The Switch Pyramid has been nominated by DCD as one of the 15 most beautiful data centers in the world. This is the only category of the global DCD Awards opened the public – cast your vote now!