Linköping University (LiU) in Sweden is to host and operate a new European High Performance Computing Joint Undertaking (EuroHPC) supercomputer.
EuroHPC announced that LiU will host the 'mid-range' system, known as Arrhenius, at its campus in Linköping in southern Sweden.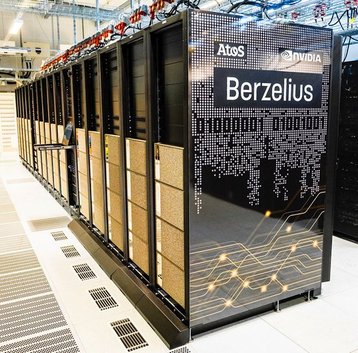 A vendor hasn't been announced yet, but the system will reportedly offer around 30 petaflops of performance.
The machine will be co-funded (up to 35 percent) by EuroHPC from the Digital Europe Programme (DEP), and the Swedish Research Council's funding for research infrastructure.
Linköping University is the home of the National Supercomputer Centre (NSC) and is the host of the National Academic Infrastructure for Super­computing in Sweden (NAISS), the Swedish Research Council's new HPC organization.
NAISS has taken over the financing of the existing Dardel, Tetralith, Alvis, Bianca, and Rackham systems, as well as storage systems and cloud services located at different sites across Sweden. Over time, NAISS will consolidate new hardware resources to a single national site.
Jan-Erik Sundgren, chairman of the steering group for NAISS, said: "Now that we have a new national organization in place, the addition of Arrhenius is an extremely important piece of the puzzle to be able to realize the potential of NAISS and to be able to assist Swedish and European researchers with world-class computing power."
The system is named after Carl Axel Arrhenius, a Swedish geologist, and chemist who discovered gadolinite in 1787. He was also a colleague of Jöns Jacob Berzelius, the father of Swedish chemistry, who has another supercomputer at LiU named after him.
Founded in 1983, the NSC is currently home to the BerzeLiUs, Tetralith, Sigma, Cirrus, Stratus, Nebular, and Bi systems.
To date, the EuroHPC JU has procured eight supercomputers across Europe. Five supercomputers are now operational; LUMI in Finland, Leonardo in Italy, Vega in Slovenia, MeluXina in Luxembourg, Discoverer in Bulgaria, and Karolina in the Czech Republic. Two more supercomputers are also underway; MareNostrum5 in Spain, and Deucalion in Portugal.
In 2022, a further four sites were selected to host mid-range supercomputers with petascale or pre-exascale capabilities in Greece, Poland, Ireland, and Hungary. Earlier this year, EuroHPC put out a request for more hosts for petascale systems. Czechia, Germany, Spain, France, Italy, and Poland are also set to host quantum systems through the initiative.
Two Exascale systems part-funded by EuroHPC are due to be installed in Germany and France.