Europe's first exascale supercomputer is to be located in Forschungszentrum Jülich facilities in Germany.
The European High Performance Computing Joint Undertaking (EuroHPC JU) has selected the German research institution as a partner in Germany's Gauss Center for Supercomputing to host the future machine, to be named Jupiter.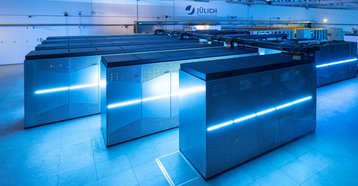 Jupiter, which stands for "Joint Undertaking Pioneer for Innovative and Transformative Exascale Research", will be installed in a purpose-built building on the campus of Forschungszentrum Jülich from 2023 and operated by the Jülich Supercomputing Center (JSC).
As with the Forschungszentrum Jülich's Juwels system, Jupiter will be based on a modular supercomputer architecture that the research institution developed as part of the European Deep research projects .
The system will reportedly require just 15MW of energy, which will be sourced from renewable projects. It will utilize hot water cooling and may be connected to a district heating scheme.
The system is to be procured by the European supercomputing initiative EuroHPC JU. The total costs for the system amount to €500 million ($519.3m); half will be provided by EuroHPC JU and the other half be provided by the German Federal Ministry of Education and Research (BMBF) and the Ministry of Culture and Science of the State of North Rhine-Westphalia (MKW NRW).
Located in Jülich, in North Rhine-Westphalia's Düren, the Jülich Supercomputing Center at Forschungszentrum Jülich launched Germany's first high-performance computing center in 1987. It currently operates the Gems, Jureca, Jusuf, and Juwels supercomputers and largely uses Atos-based hardware. It has also procured a D-Wave quantum computer.
Oak Ridge's exascale 'Frontier' system in the US is named the world's most powerful supercomputer in the most recent Top500 list of supercomputers. On the main High-Performance Linpack (HPL) benchmark used by Top500, Frontier reached 1.102 exaflops of sustained performance. It has a theoretical peak performance of 1.686 exaflops - although Oak Ridge believes it can reach 2 exaflops in time. For the mixed-precision computing benchmark, useful for calculating AI performance, it hit 6.88 exaflops - also the world's fastest.
However, China has operated two exascale systems for over a year - it has just kept them relatively secret, and not submitted them to the Top500. A third Chinese exscale system is reportedly in development.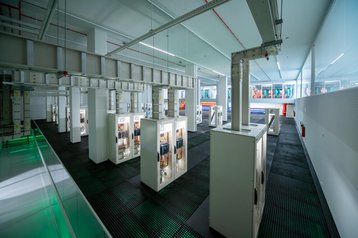 EuroHPC JU picks new locations for more supercomputrs, MareNostrum5 back on track
As well as Germany, the EuroHPC JU has selected a further four sites to host mid-range supercomputers with petascale or pre-exascale capabilities:
Daedalus will be hosted by the National Infrastructures for Research and Technology (GRNET) in Greece.
Levente will behosted by the Governmental Agency for IT Development (KIFU) in Hungary.
Caspir will be hosted by the National University of Ireland Galway (NUI Galway) in Ireland.
EHPCPL will be hosted by the Academic Computer Centre Cyfronet AGH (Cyfronet) in Poland.
Specifications of the new systems have not been shared yet.
Professor. J-C Desplat of the Irish Centre for High-End Computing (ICHEC) at NUI Galway, said: "A new supercomputer, expected to be around 25 times more powerful than the current national supercomputer Kay, would provide a national competence development platform for both numerical modelling and for the next generation of data-centric techniques and platforms and, as such, accelerate the adoption of powerful new hybrid techniques embedding machine learning within mainstream computational science models and Grand Challenges."
The machines will be co-funded by the EuroHPC JU – with JU co-funding up to 50 percent of the total cost of the high-end supercomputer and up to 35 percent of the total cost of the mid-range supercomputer – with budget stemming from the Digital Europe Programme (DEP), Horizon Europe (HE), and by contributions from relevant participating states. The exact funding arrangements for the new supercomputers will be reflected in hosting agreements that will be signed soon.
The most powerful supercomputer in Europe is currently Lumi, a EuroHPC JU system launched earlier this month and located in a former paper mill in Kajaani, Finland. The HPE Cray EX supercomputer is currently capable of 152 sustained petaflops (Linpack), but that is expected to grow to more than 375 in the coming weeks - and a peak performance potentially above 550 petaflops.
Five of EuroHPC JU's systems are currently operational, including LUMI. Along with it is Vega, in Slovenia; MeluXina, in Luxembourg; Karolina, in Czechia; and Discoverer, in Bulgaria.
Three more supercomputers are also underway: Leonardo in Italy, Deucalion in Portugal, and MareNostrum 5 in Spain, the latter of which is seemingly back on track after delays.
The future of MareNostrum 5 had looked uncertain last year, with the public procurement process for the system canceled in July 2021 after the parties involved couldn't agree on a vendor to supply the system. According to the document published on the EuroHPC site, voting results at a meeting "did not achieve the needed majority to reach an agreement to adopt the selected tender."
At the time, Politico reported involved parties were divided over whether to focus on sovereignty and rely on local 'made in Europe' supply chains or buy the best available technology to better support research; a decision between a more Euro-centric Atos system vs a joint IBM-Lenovo bid couldn't be reached.
EuroHPC JU put out a new tender call at the start of the year, and this week announced that it has selected Atos as the winning vendor.
To be hosted in Barcelona, the system will have a peak performance of 314 petaflops, more than 200 petabytes of storage, and 400 petabytes of active archive.
"The EuroHPC Joint Undertaking continues to lead the way in European supercomputing. MareNostrum 5 will provide European scientists and industry with access to cutting-edge HPC infrastructures and services," said Anders Dam Jensen, the Executive Director of the EuroHPC Joint Undertaking. "It will power medical innovation but also climate research, engineering and earth sciences while supporting our objective to promote green and sustainable technologies."
Director of BSC-CNS Mateo Valero added: "The acquisition of MareNostrum 5 will enable world-changing scientific breakthroughs such as the creation of digital twins to help solve global challenges like climate change and the advancement of precision medicine. In addition, BSC-CNS is committed to developing European hardware to be used in future generations of supercomputers and helping to achieve technological sovereignty for the EU's member states."
The Barcelona Supercomputing Center – Centro Nacional de Supercomputación (BSC-CNS), which all through the uncertainty seemed sure the system was still going ahead, inaugurated the new 12,000 sqm HQ building due to host MareNostrum 5 in October 2021.