The Forschungszentrum Jülich research center in western Germany has received a new upgraded module for its JURECA supercomputer.
With the new JURECA-DC module – DC stands for Data Cluster – the supercomputer is now capable of 23.5 petaflops of performance.
The latest module was delivered by French vendor Atos and is operated by the cluster software of the German company ParTec. The system's storage was also extended via a new flash memory system JUST-IME by HPE and DDN.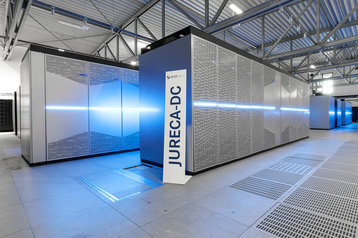 The new JURECA DC cluster module is based on Atos' Sequana XH2000 series. It consists of 768 compute nodes, equipped with two AMD EPYC Rome CPUs with 64 cores and 512GB to 1TB of main memory. 192 of the nodes are equipped with four Nvidia A100 graphics processing units (GPUs). The system has a bandwidth of over 2 TBs.
First deployed in 2015 as a 1.4 petaflops system, JURECA has been on the Top500 list during its whole time in operation. The machine underwent an upgrade in 2017 which brought its performance up to 3.7 petaflops. The original cluster module has now been replaced; the booster module, which was installed in 2017, will continue to operate.
The new module was procured as part of the €73 million ($87.1m) PPI4HPC project, in which computing centers from four European countries can purchase supercomputer systems through a joint procedure. The BSC in Spain, GENCI/CEA in France, and CINECA in Italy are also part of the program.
Founded in 1956, Forschungszentrum Jülich conducts research into biotechnology, energy, and climate change, plant & soil research, as well as brain research. In addition to JURECA, it operates the JUWELS and JUSUF supercomputers, as well as a number of other HPC research projects.