Server maker Supermicro is reportedly moving production out of China, due to customer concerns after claims that the Chinese government had infiltrated its supply chain and added spy chips to the company's motherboards.
The claim, originally reported by Bloomberg last October, was vociferously denied by Supermicro, as well as by allegedly impacted clients. Apple went on to write a letter to the US Congress denying the story, while CEO Tim Cook and AWS CEO Andy Jassy called for Bloomberg to retract the article.
The server company also hired a third-party investigations firm, Nardello & Co, to examine the veracity of the report, but it was unable to find any evidence supporting Bloomberg's claims. The US Department of Homeland Security also disputed the claim.
Better safe than sorry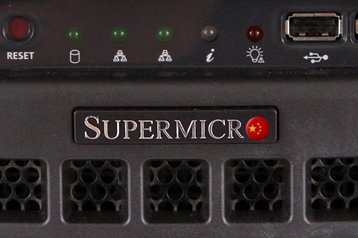 Nikkei Asian Review reports that, despite the strong rebuttals, US customers remain cautious about the company's servers.
In an effort to address those concerns, as well as mitigate against what appears to be an escalating US-China trade war, Nikkei reports that Supermicro has told suppliers to move production out of China, according to industry sources familiar with the matter.
The world's third-largest server maker by shipments primarily assembles server systems in-house but outsources motherboard production to numerous suppliers. "We have to be more self-reliant [to build in-house manufacturing] without depending only on those outsourcing partners whose production previously has mostly been in China," an executive told Nikkei.
This month, Supermicro held a groundbreaking ceremony for a $65 million, 800,000 sq ft manufacturing plant in Taiwan. It is also expanding its San Jose, US-based Green Computing Park, with the third of five facilities under construction scheduled for completion by the end of 2019.
Bloomberg appears committed to its reporting - it has not retracted the story, and last year said: "Bloomberg Businessweek's investigation is the result of more than a year of reporting, during which we conducted more than 100 interviews.
"Seventeen individual sources, including government officials and insiders at the companies, confirmed the manipulation of hardware and other elements of the attacks. We also published three companies' full statements, as well as a statement from China's Ministry of Foreign Affairs. We stand by our story and are confident in our reporting and sources."