Argonne National Laboratory has deployed a mini version of the oft-delayed Aurora supercomputer.
Sunspot will allow researchers to test and tweak code ahead of the launch of the exascale supercomputer.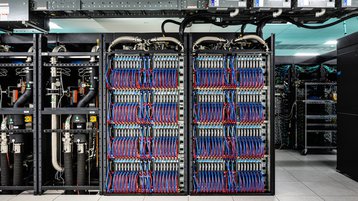 The Sunspot system is made up of two racks with 128 nodes, featuring the same equipment found in Aurora. That supercomputer will have more than 10,000 nodes, each with two new Intel Xeon CPU Max Series processors and six Intel Data Center GPU Max Series processors.
"Sunspot is basically a miniature version of Aurora," said Susan Coghlan, Argonne Leadership Computing Facility (ALCF) project director for Aurora. "It gives teams a platform to optimize code performance on the actual Aurora hardware, including the system's Intel CPUs and GPUs, and the HPE Slingshot interconnect that connects all the components together."
Tim Williams, co-manager of the ALCF's Aurora Early Science Program (ESP), added: "Test and development systems are an important on-ramp for larger production supercomputers."
Researchers had access to earlier testbeds - Iris, Arcticus, and Florentia at Argonne, and Borealis at Intel - to test code for Aurora, but Sunspot is the first to directly mirror the systems.
"With our Early Science Program for new supercomputers, the goal is to be ready for science on day one of deploying a new system," Williams continued. "Testbeds like Sunspot allow researchers to carry out performance studies and scale up their workloads to run on much larger supercomputers while those systems are still being built."
Even once Aurora launches, which is hoped to be relatively soon, Sunspot will remain a useful tool for new users to tweak their workloads before they get access to the entire system.
Aurora was originally meant to launch in 2018 as a 180 petaflops system featuring Intel's Xeon Phi chips. After Phi was delayed, soft-launched, and then canceled, Aurora was pushed back and re-architected with new processors, as an exascale system.
It was then set to be the world's first exascale supercomputer, but Intel was forced to delay the system again to mid-2021 after it admitted it was struggling to develop 7nm chips, including Ponte Vecchio.
Now Ponte Vecchio is expected to do better than once predicted, with Aurora set to be capable of 2.4 exaflops at peak, which would make it the most powerful system on the Top500 list of supercomputers.