Intel has deployed a small supercomputer at its Jones Farm lab in Oregon to test the servers and software set to be used in the Aurora exascale supercomputer.
Borealis features two racks that are identical to what will be used in the oft-delayed supercomputer, which is expected to come online soon. Despite being small, the company believes that Borealis will rank on the Top500 list of world's fastest supercomputers.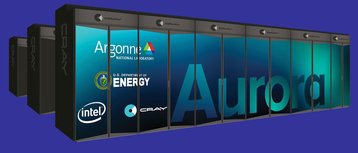 Intel fellow Dr. Robert Wisniewski told HPCwire that "the two machines are purposely the same architecture and design."
The node has eight HPE Slingshot 11 NICs; the interconnect is a Dragonfly topology utilizing HPE Slingshot networking.
Each blade has two 'Sapphire Rapids' HBM CPUs and six Ponte Vecchio Xe-HPC GPUs, both new Intel chips.
Aurora was originally meant to launch in 2018 as a 180 petaflops supercomputer featuring Intel's Xeon Phi chips. But when Phi was delayed, soft-launched, and then canceled, Aurora was pushed back and re-architected with new processors, as an exascale system.
It was then set to be the world's first exascale supercomputer - one capable of performing more than a billion billion (1018) operations per second. This, too, did not happen.
Intel was forced to delay the system indefinitely after it admitted it was struggling to develop 7nm chips, including Ponte Vecchio.
The supercomputer was pushed back from a planned launch in mid-2021, ceding the awaited milestone of the first US exascale system to the 1.5 exaflops Frontier supercomputer at Oak Ridge National Laboratory. But that supercomputer, which is currently being installed, is also not the first exascale supercomputer - with China thought to have already secretly launched two 1.3 exaflops supercomputers.
Now Ponte Vecchio is expected to do better than once predicted, with Aurora set to be capable of 2.4 exaflops at peak.