A consortium including ST Telemedia Global Data Centres (STT GDC) is developing a new data center campus in the Philippines.
ST Telemedia Global Data Centres Philippines (STT GDC Philippines), a joint venture between Globe, Ayala Corporation, and Singapore's STT GDC, today announced plans to develop a campus in Quezon City in Manila.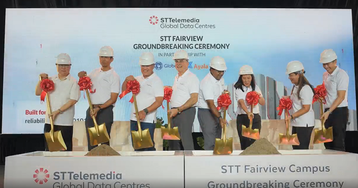 The STT Fairview campus will comprise over 83,000 square meters (893,400 sq ft) of gross floor area across four buildings, offering 124MW of IT load capacity once fully built out. Ground has been broken on the first building, Fairview 1.
Hollow core concrete slabs, recycled steel, and HDPE3 piping will be used to reduce the site's carbon footprint. The buildings will have the ability to house liquid-cooled solutions and servers based on customer requirements.
"This is an opportune moment to support the Philippines' digital growth agenda with core data center infrastructure that is the linchpin of a digital society," said Lionel Yeo, CEO Southeast Asia, STT GDC. "With its complex design and scale requirements, this new data center will offer market-leading efficiencies without the reliability trade-offs, bringing a new standard in data center capacity to the Philippines that will serve the country's digital and sustainability ambitions with its future-ready features."
STT GDC Philippines already operates five data centers with a total IT capacity of 22MW; three in Metro Manila and one each in Cavite and Davao.
Globe, Ayala Corp, and STT GDC formed a data center JV last year after Globe carved out its data center business. At the time the new unit was called KarmanEdge, with Carlo Malana leading the company as CEO. It seems that now the unit has been renamed STT GDC Philippines.
Globe has been operating data centers in the country since 2001 through its wholly-owned subsidiary Innove Communications, Inc (formerly Islacom). Rumors that Globe was looking to sell its data center business surfaced in September 2021, with the company saying in November that it was in 'advanced discussions' to form a data center joint venture with STT GDC.
Ayala owns around 14 percent of Globe, alongside SingTel's 21 percent stake (owned by Temasek Holdings, which also owns STT GDC) and Asiacomm which owns 54 percent (and itself is owned by Ayala and Singtel).
More in Construction & Site Selection