Spire Global, Inc. a provider of space-based data analytics and hosting services has partnered with space blockchain firm SpaceChain.
The new agreement will see the two companies launch a mission to demonstrate the feasibility of blockchain technology computation in space and "resolve land-based centralized infrastructure issues."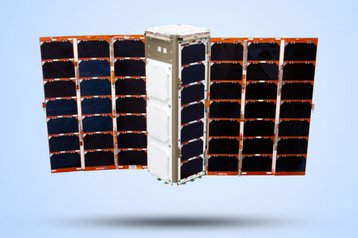 "Space is the next frontier for businesses, and through Spire's satellite infrastructure we are taking global collaboration to the ultimate vantage point," said Zee Zheng, SpaceChain co-founder and CEO. "This partnership will help us leverage satellite-based computing to remove barriers and create a more open, collaborative and global economy."
Spire has launched more than 100 of its Low Earth Multi-Use Receivers (LEMUR) small satellites. As well as hosting third-party software and hardware, it provides weather, maritime, and other observation and intelligence services.
SpaceChain aims to integrate blockchain nodes on satellites, arguing Blockchain technology in space will be safer from hacking, Internet kill switches, or governments that are against the technology. It uses Qtum proof of stake systems rather than proof of work like Bitcoin. In July it launched a space-bound payload module into orbit as part of Loft Orbital's multi-client YAM-2 satellite, and has previously launched a number of other small nodes into orbit. It has hardware aboard the ISS via Nanorack's Bishop Airlock.
Spire will utilize its "Sabertooth" supercomputing module to fulfill a two-part mission with SpaceChain. Spire will conduct an on-orbit upload of SpaceChain's software to an existing satellite, before adding SpaceChain capabilities via a payload on a new satellite, expected to be launched later this year.
"We're delighted to work alongside SpaceChain and demonstrate innovative ways to leverage outer space," said Theresa Condor, executive VP and GM of Spire Space Services. "Space-based computation is already proving its value across countless industries and use cases, and we're excited to help realize its potential for emerging and decentralized blockchains."