Sparkle has opened its fourth data center in Greece.
Located in Athens close to Metamorfosis I, the new Metamorfosis II facility comprises an area of about 6,000 sq m, with a maximum capacity of 700 racks in six modules and 7.7MW of capacity.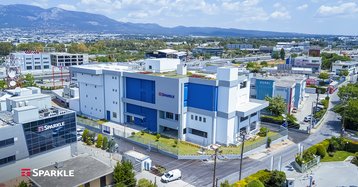 "We have created an exemplary open hub to offer an advanced experience to the most sophisticated customers, also guaranteeing a strong commitment on environmental sustainability," says Elisabetta Romano, CEO of Sparkle. "With this new opening, Sparkle enriches its infrastructural offer for national and international enterprises while confirming the attention for the Greek market in which we have been active for twenty years with an increasing presence."
Construction on the facility began in January 2020. Sparkle said the Tier III, LEED Gold, and ISO 14001 certified facility was built to "stringent" anti-seismic criteria and is fully integrated with Sparkle's pan-Mediterranean optical network Nibble as well as its Seabone IP/MPLS global backbone.
Operating in Greece since 2001, the international unit of Telecom Italia now operates three facilities in Athens and one in Chania. Sparkle also operates data centers in Sicily and Turkey.
In June parent company TIM/Telecom Italia received €350 million ($428 million) in loans to expand and modernize its fiber and data center footprint in Italy and Greece from the European Investment Bank (EIB).
More in Construction & Site Selection