SpaceX's Low Earth Orbit (LEO) satellite unit Starlink has signed a new direct-to-cell distribution deal with Swiss telco Salt.
The telco said the deal was the 'first of its kind' in Europe, and will use the satellite firm to provide full coverage across Switzerland to customers without the need for satellite phones.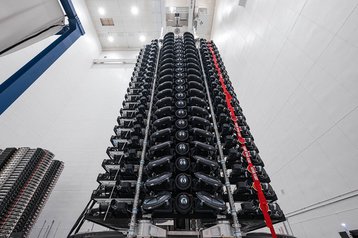 Salt will use Starlink satellites for backhaul and backend network connection in conjunction with the telco's existing terrestrial network.
The company said the deal will provide customers with enhanced connectivity and coverage, and 'end the struggle' of covering Switzerland's mountainous topology.
The service will begin in 2024, offering text messaging, before expanding to include voice and data in 2025, without need for modified handsets. The service will be free to Salt's premium tariffs and available as an add-on to other plans.
"We're thrilled to be working alongside Salt, and this is the first announcement of its type in Europe. From Swiss mountains to valleys, customers can now enjoy continuous coverage wherever they may travel, said Sara Spangelo, senior director of satellite engineering and co-lead of direct to cell program at SpaceX.
Marc Furrer, chairman of Salt, added: "We are beyond excited to announce this agreement with SpaceX. We always strive to bring technology to our customers and working with Space is a major step forward in that mission.
Previously Orange Switzerland, Iliad-founder Xavier Niel bought Salt from Apex Partners in 2014 through his NJJ Group company.
Starlink has previously signed direct-to-cell agreements with T-Mobile in the US and backhaul deals with KDDI in Japan.
New Starlink satellites, new ground station antenna
The company, which is live and offering services in North and South America, Europe, Australasia, and parts of Africa and Asia, is launching its next generation of satellites.
Last month PC Mag reported that the company has filed with the FCC for a hardware upgrade for its first-generation Starlink satellite constellation. The application doesn't specify the nature of the upgrades beyond 'more advanced beam-forming and digital processing technologies'.
The company has since begun launching its v2 mini-satellites. The company said these machines include 'more powerful phased array antennas' and the use of E-band for backhaul—which Starlink said would allow it to provide '~4× more capacity per satellite' than earlier iterations. The first batch launched at the end of February.
As previously reported by DCD, the new satellites' E-band capabilities have seen SpaceX make improvements to its ground facilities, and it seems the company is expanding its ground infrastructure further. Netflix engineer and SpaceX follower Nathan Owens noted that the company recently filed to add Ka-band capable antennas upping the number per site from eight to 40, adding significant capacity to its facilities.