As SpaceX's Starlink prepares to launch its fleet of second generation satellites, the company is expanding its ground station infrastructure across the US.
Nathan Owens, a CDN Reliability Engineer at Netflix who regularly posts about Starlink, said last week that SpaceX last month filed with the FCC to build or upgrade around 21 US gateway sites with E-Band capabilities that will provide greater uplink and downlink speeds.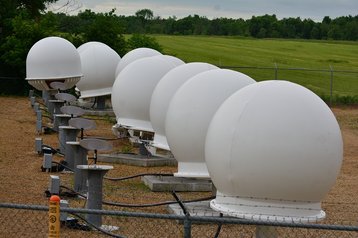 The list includes locations in Anderson, SC; Benkelman, NE; Blountsvilole, AL; Savannah, TN; Surrency, GA; Adelanto, CA; Arlington, OR; Marshall, TX; Prosser, WA; Romulus, NY; Sheffield, IL; Brunswick, ME; Clinton, IL; Savanna, IL; Elkton, MD; Roberts, WI; York, PA; and Port Matilda, PA.
"With these new locations, SpaceX has applied for 99 unique gateway sites across 40 states/territories (GU, PR, and 38 states)," said Owens.
Owens also noted SpaceX has filed with the FCC for special temporary permission to operate its gateways in the E-band while the FCC reviews a full application.
In Port Matilda, Pennsylvania, and first reported by State College, Centre County's Halfmoon Township late last month gave conditional approval to a land development plan for a Starlink ground station facility.
The company, via Zayo LLC, was applying to install 32 antennas on an 88 ft by 153 ft gravel pad at 67 Sawmill Road. The land is leased from Countryside Estate Properties LLC, with Five Nines Design Group working on the project.
Last month the FCC granted SpaceX permission for 7,500 Gen 2 satellites. The company had requested authorization for almost 30,000. E-band capable satellites are set to begin launching in February 2023.
Amongst six SpaceX rocket launches in December 2022, two carried a total of more than 100 Starlink satellites. The second launch, on December 208, reportedly carried 54 generation 2 machines. Another group of Starlink satellites is due to be launched next week, with four more such launches due later this month.