SK ecoplant has partnered with Digital Edge to develop a data center in Incheon, South Korea.
The two companies have entered into a joint venture (JV) after signing an MOU for the 'Bupyeong data center joint development' project.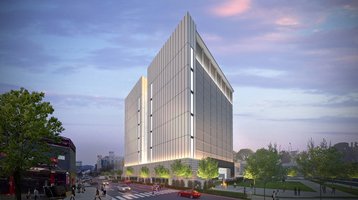 The agreement between the two companies aims to jointly build and promote a 120MW hyperscale data center development project in the National Industrial Complex in Bupyeong-gu, Incheon.
The project will see two buildings constructed on the site; work on the first facility will begin this year and come into service in 2024. The companies are to invest around one trillion won ($800m) in the project. SK ecoplant will develop the facility, while Digital Edge will operate it.
Song Young-gyu, CEO of SK ecoplant Ecospace BU, said: "Through this project, we have successfully entered the data center development business."
Digital Edge CEO Samuel Lee added: "With this project, SK ecoplant's business development know-how and Digital Edge's operating experience will be combined to provide next-generation digital infrastructure services to the Korean market, one of the fastest-growing data center markets in the world."
Formerly known as SK E&C, SK ecoplant is the construction subsidiary of the South Korean conglomerate SK Group, which also owns the likes of SK Telecom and SK Hynix. It recently acquired eWaste & IT Asset Disposal (ITAD) firm TES for around $1 billion.
New York-based private equity firm Stonepeak Infrastructure Partners formed Digital Edge in August 2020. CEO Samuel Lee previously served as president of Equinix's Asia Pacific business.
Digital Edge has more than a dozen data centers in operation or construction across the APAC region; including eight in Japan across Tokyo and Osaka, two in South Korea across Seoul and Busan, and one each in Manila in the Philippines and Jakarta in Indonesia.
This month also saw Digital Edge release its first ESG report. The company aims to be carbon-neutral by 2030, and source at least 50 percent of its power from renewable or carbon-free resources by 2025.
Newly constructed data centers will be designed to achieve a peak Power Usage Effectiveness (PUE) of 1.3 or less, with a target annualized PUE of 1.2 or less and a Water Usage Effectiveness (WUE) of 1.4 or less.